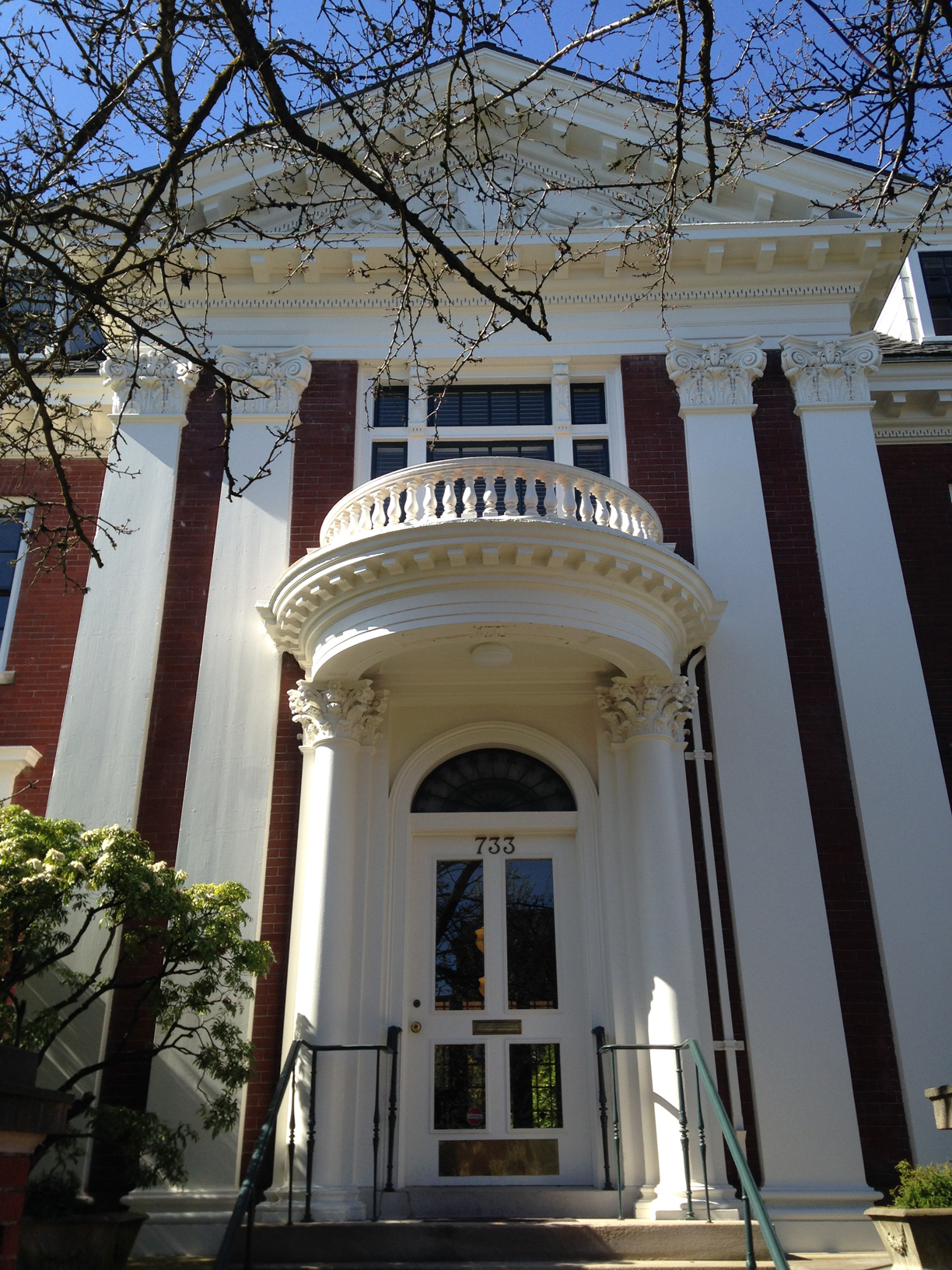 This elegant red brick 1909 Colonial Revival house is my home all day every day – it'll be my 20th year next month – and I can't believe I get to live in this luxury real estate every day!
The home was built for Abbott Low Mills, who was President of the First National Bank, Vice President of the Lewis and Clark Exposition, and served as speaker of the Oregon House of Representatives.  Photos of four generations of Mills gentlemen have become familiar to us, as they hang in the office.  (Come to visit to find out where the photos are hung!)
The main floor has a dramatic foyer with an elegant staircase and the most lovely dark library.  Nowadays we've converted the music room and dining rooms to conference room and office space, but the original character is still intact.
Here's a BEFORE photo of the staircase before….. dark and carpeted in red.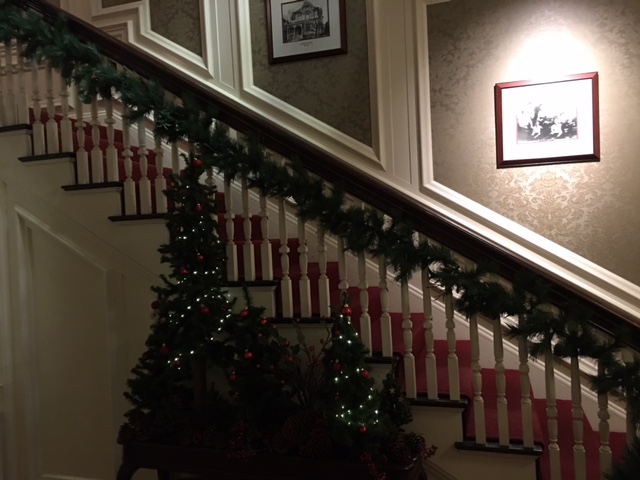 And the after…..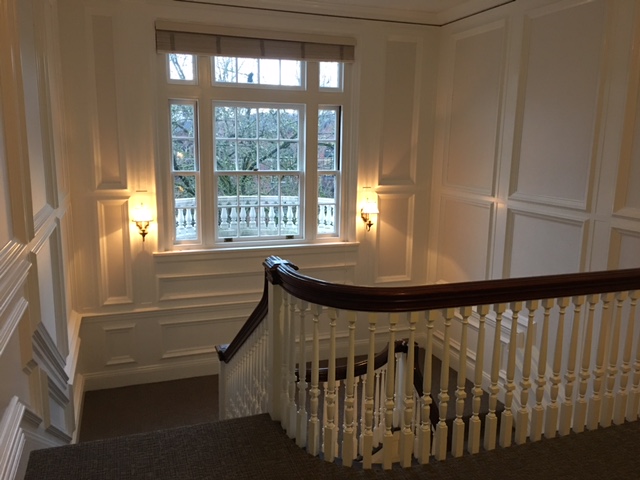 And the original butler's pantry – now kitchen BEFORE…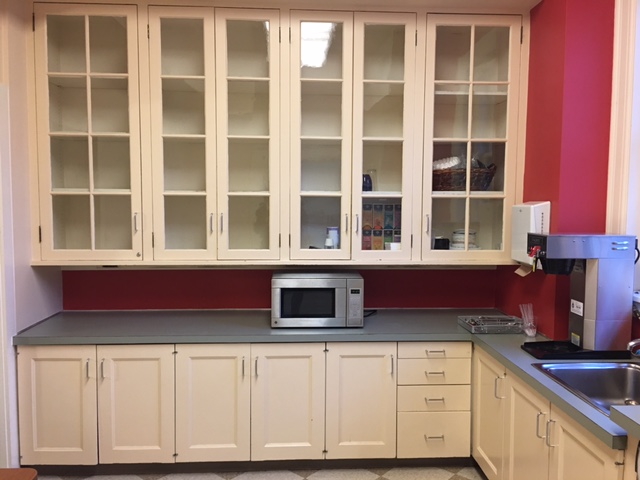 and AFTER: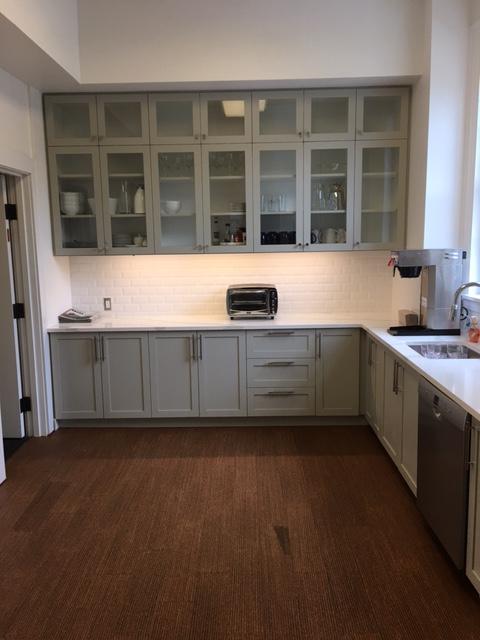 I've worked in several different rooms (now office spaces) here – my first was on the third floor former children's playroom looking West – but then I moved to the second floor master bedroom – a beautiful east-facing room with a beautiful marble fireplace – my first fireplace office, but not my best!  I shared the room with three older Realtors and taught them about the internet and digital cameras, among other newfangled devices that worked their way into Real Estate in the mid-1990s.
Eventually I moved downstairs to the former kitchen – the large triple window above my desk made it a really sunny spot that had a view of giant flowering trees in the spring.   I finally earned a private office upstairs in one of the Mills boys' bedrooms.  This West-facing bedroom features a beautiful brick fireplace it has a roomy closet, and has bright sunlight in the afternoon.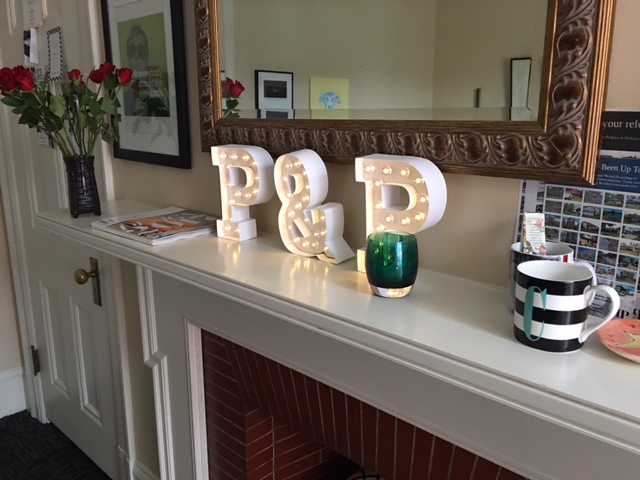 I have loved "living here"   As I enter my 20th year at 733 NW 20th Avenue, I'd love to thank the Mills boys for taking such good care of their home and the Allens for providing us with this absolutely luxurious space in which to work.
Current Portland Oregon Real Estate Information,

Highlights of Portland Oregon, House Ideas

Portland Real Estate, Portland Oregon Top Producer, Windermere Top Producer, Portland Realtor, Portland Homes for Sale
Windermere Top Producer Cary Perkin
Save