Good News for Healthy Food Lovers!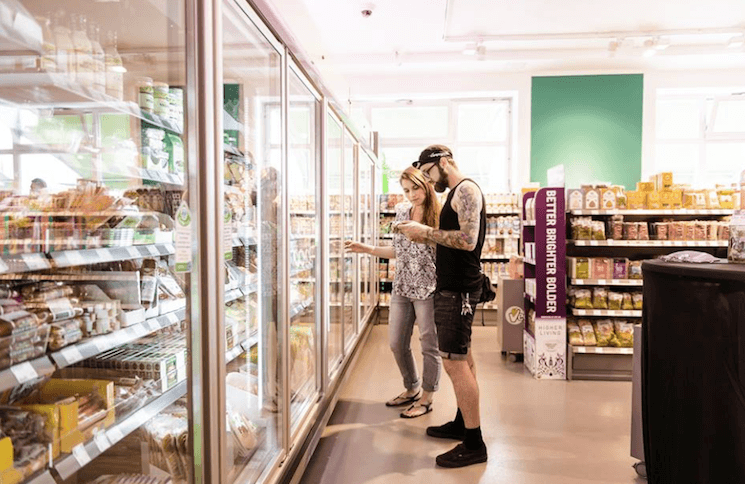 Vegan products are usually relegated to a tiny section in conventional grocery stores, but Portland, Oregon will soon be home to an entire vegan supermarket.
Veganz, the first and world's largest vegan grocery store chain, will set up shop in the famously crunchy city later this year. Along with a supermarket, Veganz also plans to open a shoe and clothing store and restaurant in Portland.
The chain was founded in February 2011 in Berlin, Germany by former Mercedes-Benz manager Jan Bredack after he found bountiful vegan options during his travels around the U.S. and Russia, German news site The Local reported.
Bredack, who became a vegan in 2009, said he found it hard to "shop normally" at home. Germany, after all, is the meat-loving home to 1,500 different types of sausages and cold cuts.
Bredack said he wants to make vegan shopping easier for everyone and noted that his stores appeal to omnivores as well, estimating that 80 percent of his customers are neither vegan nor vegetarian.
"It should be really simple," he told The Local. "People shouldn't have to cut out anything."
Veganz imports goods from 30 countries worldwide and sells thousands of vegan products, including plant milk and cream, fake meats and fish, vegan ice creams, vegan cheeses and sweets, as well as toiletries and cosmetics. You can see the incredible range of products they have at its Berlin branch here.
Currently, there are more than 10 branches across Europe, including Berlin, Frankfurt, Hamburg, Munich, Essen, Cologne, Prague and Vienna. Veganz's first branch in the UK will reportedly offer more than 6,000 vegan products.
In the video below Bredack, talks about his plans to take Veganz food products on-the-go with a food truck for festivals, music and sports events.
Although the U.S. is still heavily a nation of meat eaters—vegans make up roughly 6 percent of the U.S. population—Americans have certainly reduced their meat consumption in recent years.
Besides a growing list of health concerns, more and more people are also considering the environmental consequences of meat and animal products. That's because a Western-style diet rich in meat and dairy produce will lead to an 80 percent increase in greenhouse gas emissions from agriculture, according to Tim Redford of the Climate News Network.
A 2014 research paper from UK think tank Chatham House, Livestock—Climate Change's Forgotten Sector, explained why it may be necessary for a lot more people to go vegetarian or at least dial down their consumption of meat and dairy products.
Greenhouse gas emissions from livestock, the study said, account for about 14.5 percent of the global total, more than direct emissions from the transportation sector and more than all the emissions produced by the U.S., the world's biggest economy.
Article courtesy of : Lorraine Chow, EcoWatch
Another fabulous food adventure for Portlandia!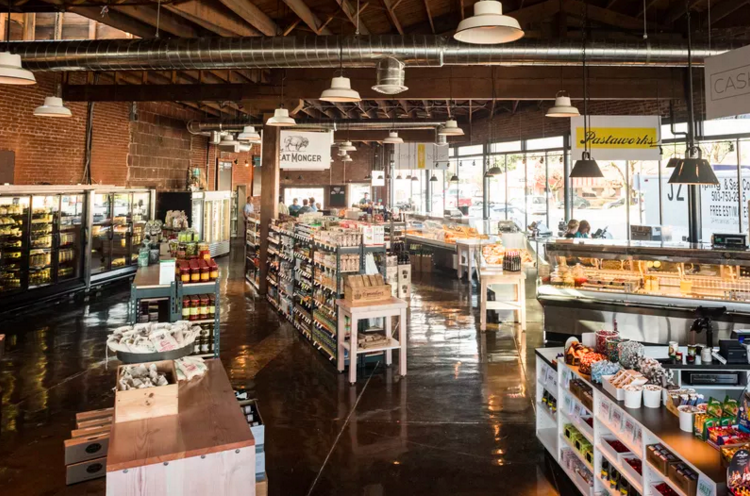 Located at 2340 NE Sandy, Providore Fine Foods opened early February, and in addition to letting you shop for groceries with a glass of wine or beer in-hand, it offers many onsite dining options. Here's what to eat at the new Providore Fine Foods: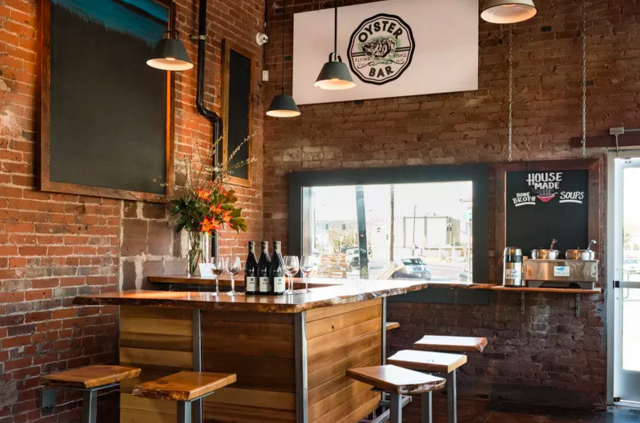 Flying Fish Oyster Bar
12 to 7:30 p.m. daily
For years, the sustainably minded Flying Fish Company has operated out of its mobile fish truck and Hawthorne fish shack, and at Providore Fine Foods, it sells local seafood and operates an 8-seat oyster bar, with standing room at a bar along the window, too. Made of Oregon cherry wood, the bar is tucked in the rear of the store and will offer:
three types of oysters served raw daily. Netarts bay oysters, delivered to Flying Fish the same day they are harvested by Nevor Shellfish, start at $2.

hot Flying Fish Company smoked salmon served on a cedar plank

two daily soups (one seafood, one meat)

bone broth

one red, one white, and one sparkling wine

bottled and canned microbrews and one cider
Image credit: Dina Avila/EPDX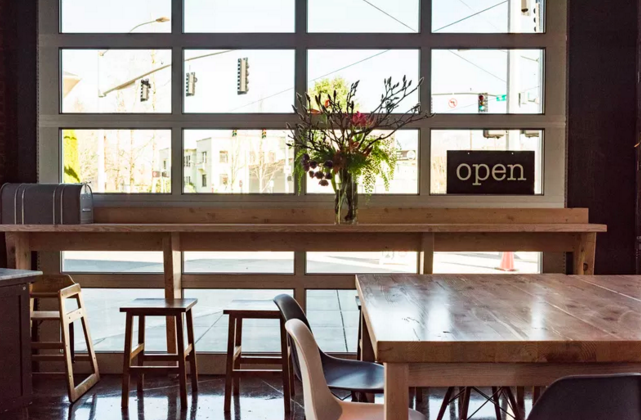 Arrosto
11 a.m. to 7 p.m. daily (tentative)
After discovering Italy's rotisserie chicken with their noses on a trip on the Italian Riviera, Providore Fine Foods and Pastaworks co-owners Kevin de Garmo and Kaie Wellman knew they needed to open a Mediterranean-style rotisserie chicken shack. Arrosto, scheduled to open at Providore Fine Foods by the end of the week, sells its chickens and sides through a window onto the street.
You can either take your order home or dig in in the Providore's seating area. Located at the front of the marketplace, the seating area seats around 20, either at two large communal tables or at a bar along the window. Come summer, the garage doors will roll up and the tables will spill out onto the patio.
Whole, half, and quarter rotisserie chickens. De Garmo says he prefers not to use a brine. "A brine is nice for breast meat, but it can make the rest of the bird soggy." Arrosto salt its chickens; stuffs them with rosemary; and brushes them with rosemary olive oil while cooking.

Every chicken comes with "crispy fat" roasted potatoes and a salad of wild baby arugula, escarole, and radicchio tossed with pecorino, croutons, and dressing.
Image credit: Dina Avila/EPDX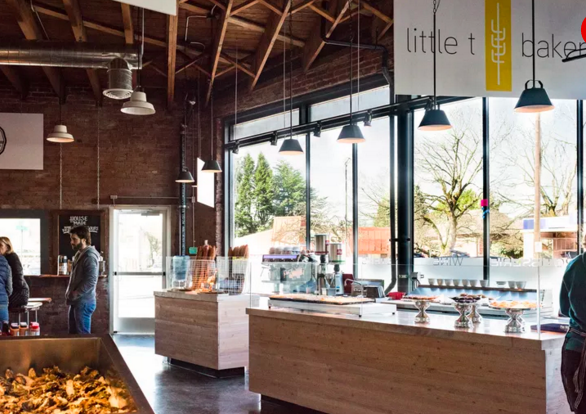 Little T Baker
9 a.m. to 7:30 p.m. daily
With two additional bakery locations in Portland, the local Little T Baker will focus on the following:
baguettes, salt slabs, and other breads

croissants, danishes, and other pastries—breakfast or otherwise

Chocolate chip cookies featuring Woodblock Chocolate and other cookies
Image credit: Dina Avila/EPDX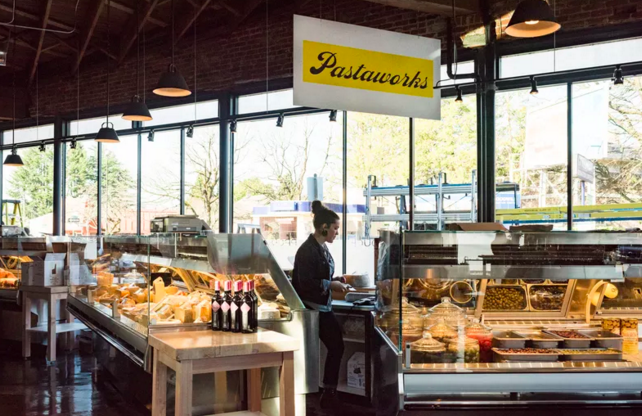 Pastaworks
9 a.m. to 7:30 p.m. daily
Pastaworks has always sold ready-to-eat items, but it's bringing lots of new ideas, including decadent chocolate and hazelnut Baci cookies and a line of foccaccias that now come with optional toppings, like prosciutto. It also hired executive chef Derek McCarthy (Firehouse, Pig & Pie), sous chef Jeff Ciuffetelli (Taylor Railworks, Clyde Common), and baker Abby Ward(Serrato, Tin Shed).
Image credit: Dina Avila/EPDX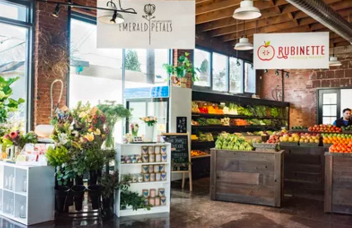 Rubinette Produce Market
9 a.m. to 7:30 p.m. daily
"We'll be the first to deliver local strawberries each year," says owner Josh Alsberg, who hopes to offer both farmers market-level produce and regular hours. To do it, he's enlisted farmers who are willing to grow special produce just for him. The fresh produce options are extensive, but here are some highlights:
lesser-known varieties of fruits and vegetables, from avocados to grapefruits

vegetables you simply aren't likely to find elsewhere, like burdock root, celeriac, and kale sprouts
Current Portland Oregon Real Estate Information,

Highlights of Portland Oregon, House Ideas

Portland Real Estate, Portland Oregon Top Producer, Windermere Top Producer, Portland Realtor, Portland Homes for Sale
Windermere Top Producer Cary Perkin
Posted on March 2, 2016 at 7:49 pm
Cary Perkins
Category:

cary perkins, kitchen ideas, Portland Oregon, Portland Oregon Restaurants, Restaurants, Things to do in Portland OR
Tagged

moving to portland OR, Portland Oregon Realtor, Portland Oregon Realtors, Portland Real Estate, Things to do in Portland Oregon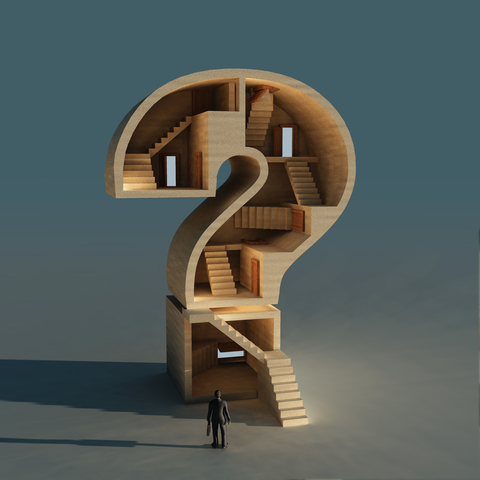 Q: We've just put in a ton of work on a new kitchen, and now it's time to sell. How much can we actually recoup from our expense?
A: Here is a link to the Remodeling Magazine Cost -VS- Value Comparison Tool. It lists costs for all areas of the US, and you can look at moderate or fancy remodels. It's lots of fun to figure out which improvements will give you the best return on your dollar. It also helps you to understand that when pricing your home, you can't expect to wring every penny out of your remodel. It will, however, make your home more attractive, and it should sell more quickly!
This site compares the average cost for 35 popular remodeling projects with the value those projects retain at resale. To find data for any of 81 cities:
1. Click a region on the map or choose from the drop-down list.
2. Click on a city in the map (requires flash) or from the drop-down list.
3. Click the Download button for a PDF with city data.
For more information about individual projects:
1. Click on a project name to see a description and a 3-D model.
2. Sort any column by clicking on the column header.
3. For more information on the Remodeling 2013 Cost vs. Value Report, click on any of the links listed at right.
Thanks to Remodling Magazine for their research on this great article.
Portland Oregon Real Estate Information,
Portland Oregon Highlights.
Posted on March 2, 2013 at 8:13 pm
Cary Perkins
Category:

Current Portland Real Estate Market Information, Daily House Idea, house idea of the day, House Ideas, kitchen ideas, Portland Oregon Real Estate, Portland Real Estate Statistics, Selling Your home
Tagged

Caryperkins.com, House idea of the Day, house ideas, Realtor in Portland OR