What better way to explore Portland than through pictures?  I've been collecting scenes from Portland, and have started to keep a file on a Pinterest page.  You can find it by clicking here.
Check back often, or subscribe to my Pinterest page.  You'll also find pages on mid-century love, do-it-yourself ideas, restaurants, and awesome looking spaces to dream about in your next home in Portland, Oregon.  Obviously, I'm also the person to help you find it.  I love Portland, and I'll show you nooks and crannies that will help you to love it too.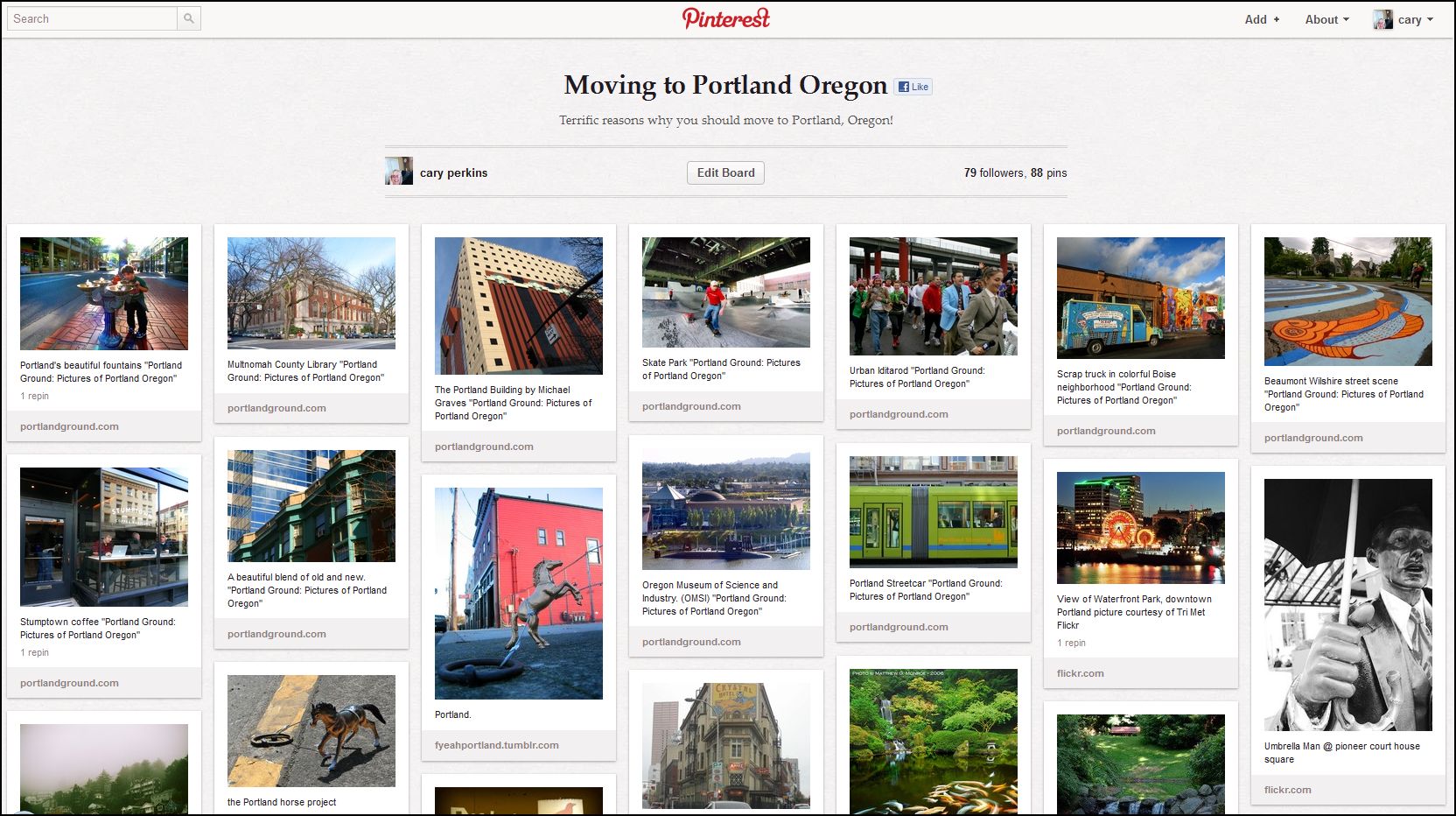 Posted on March 10, 2012 at 8:17 pm
Cary Perkins
Posted in

cary perkins, Moving, Moving to Portland, OR, Pinterest, Portland Oregon
Tagged

3.8% Real Estate Tax, Beautiful Houses, Cary Perkins, Cary Perkins Realtor, cary perkins windermere, Decorating Ideas, Front door, Gardens and Landscape, House idea of the Day, house ideas, moving, moving to portland OR, Oregon, Pinterest, Portland OR, Portland OR Real Estate Market Information, Portland Oregon, Portland Oregon Realtor, Portland Oregon Realtors, Portland Real Estate Data, Portland Real Estate Market, Portland Real Estate Statistics, Realtor in Portland OR, realtor in portland oregon, What's happening in Portland Real Estate, www.caryperkins.com

If you haven't tried Pinterest, you should give it a whirl.
It's a "scrapbook" of ideas, all with links directly to their sources.  Of course, once you reach the source, you may find even more wonderful ideas on that website.  You can play for hours.
For example, you can select the category "homes and decorating," and up pops an endless scrolling opportunity through thousands of ideas.
If you like one, you can pin it to your own "board," and you're off to your own little Pinterest page.  Yes, it's addictive.
I've been saving ideas that might appeal to my clients. They can be found on Pinterest right HERE.
If you need an invitation to get your own Pinterest account, just email me at caryperk@windermere.com and I'll get you one right away!