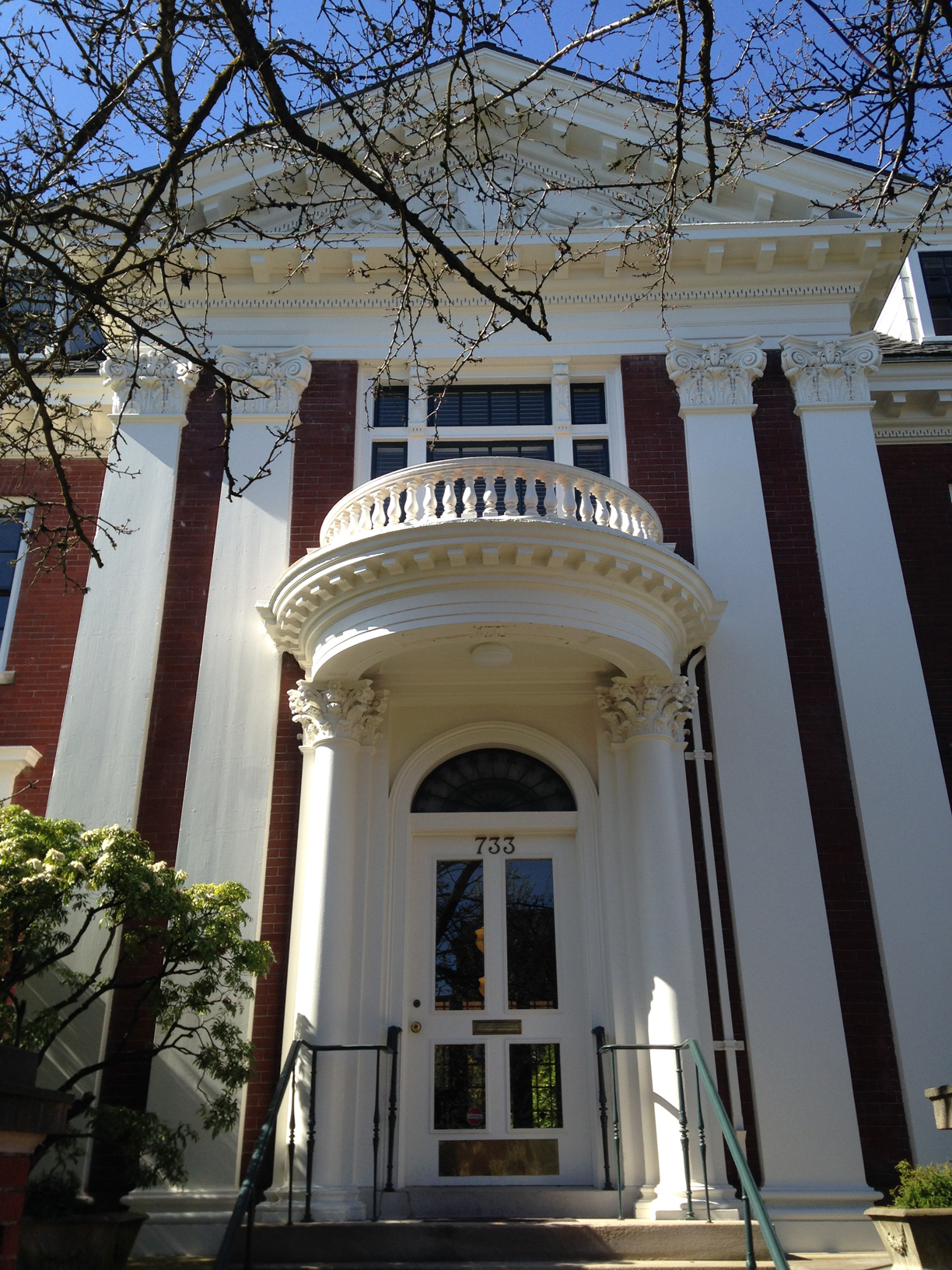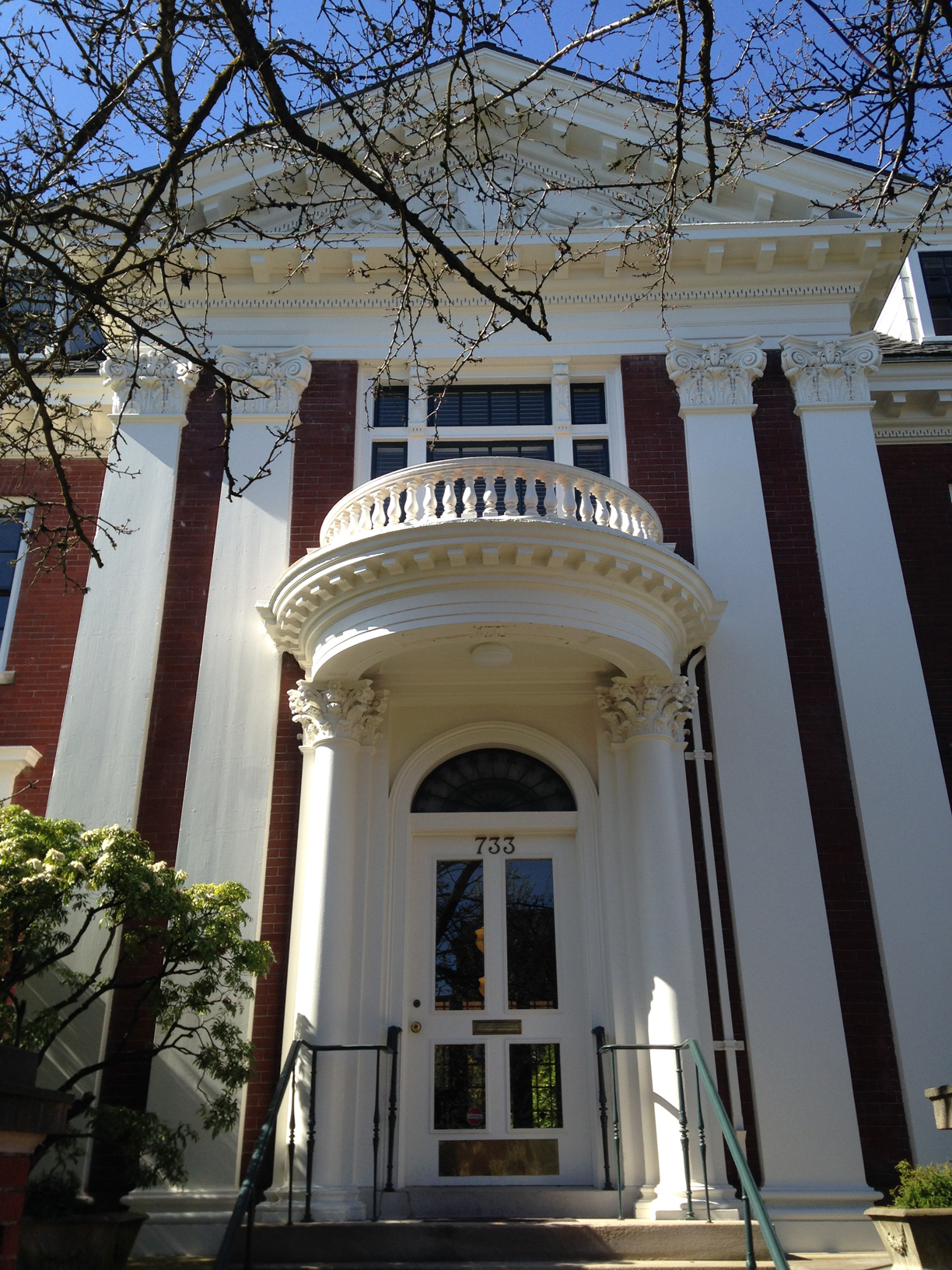 This elegant red brick 1909 Colonial Revival house is my home all day every day – it'll be my 20th year next month – and I can't believe I get to live in this luxury real estate every day!
The home was built for Abbott Low Mills, who was President of the First National Bank, Vice President of the Lewis and Clark Exposition, and served as speaker of the Oregon House of Representatives.  Photos of four generations of Mills gentlemen have become familiar to us, as they hang in the office.  (Come to visit to find out where the photos are hung!)
The main floor has a dramatic foyer with an elegant staircase and the most lovely dark library.  Nowadays we've converted the music room and dining rooms to conference room and office space, but the original character is still intact.
Here's a BEFORE photo of the staircase before….. dark and carpeted in red.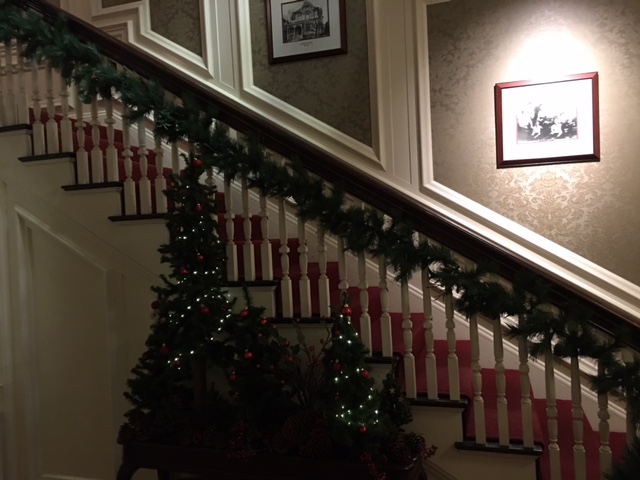 And the after…..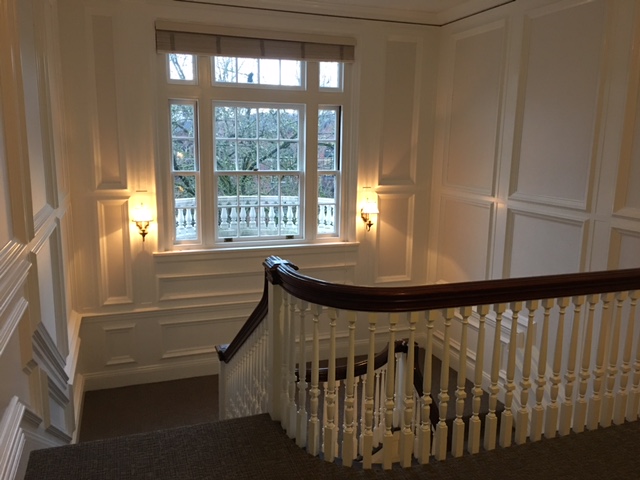 And the original butler's pantry – now kitchen BEFORE…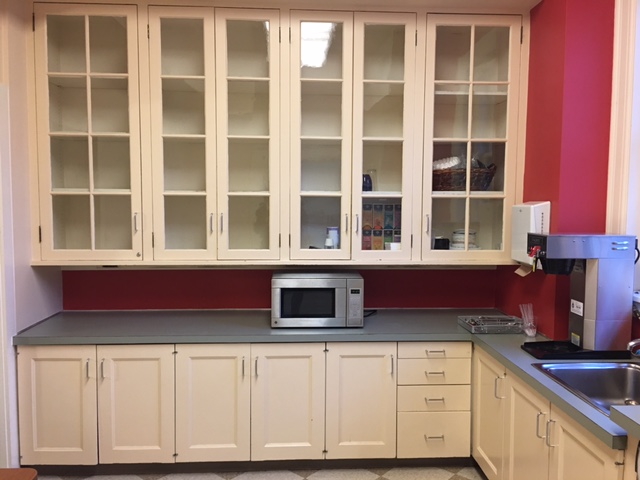 and AFTER: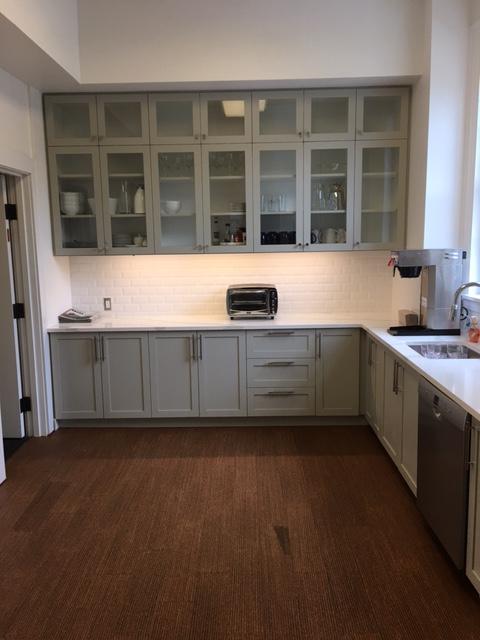 I've worked in several different rooms (now office spaces) here – my first was on the third floor former children's playroom looking West – but then I moved to the second floor master bedroom – a beautiful east-facing room with a beautiful marble fireplace – my first fireplace office, but not my best!  I shared the room with three older Realtors and taught them about the internet and digital cameras, among other newfangled devices that worked their way into Real Estate in the mid-1990s.
Eventually I moved downstairs to the former kitchen – the large triple window above my desk made it a really sunny spot that had a view of giant flowering trees in the spring.   I finally earned a private office upstairs in one of the Mills boys' bedrooms.  This West-facing bedroom features a beautiful brick fireplace it has a roomy closet, and has bright sunlight in the afternoon.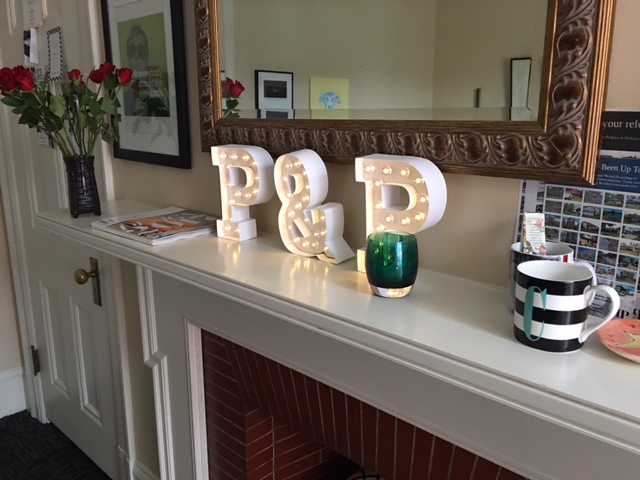 I have loved "living here"   As I enter my 20th year at 733 NW 20th Avenue, I'd love to thank the Mills boys for taking such good care of their home and the Allens for providing us with this absolutely luxurious space in which to work.
Current Portland Oregon Real Estate Information,

Highlights of Portland Oregon, House Ideas

Portland Real Estate, Portland Oregon Top Producer, Windermere Top Producer, Portland Realtor, Portland Homes for Sale
Windermere Top Producer Cary Perkin
Save

It is common knowledge that a large number of homes sell during the spring-buying season. For that reason, many homeowners hold off on putting their homes on the market until then. The question is whether or not that will be a good strategy this year. The other listings that do come out in the spring will represent increased competition to any seller. Do a greater number of homes actually come to the market in the spring, as compared to the rest of the year? The National Association of Realtors (NAR) recently revealed the months in which most people listed their homes for sale in 2016. Here is a graphic showing the results: The three months in the second quarter of the year (represented in red) are consistently the most popular months for sellers to list their homes on the market. Last year, the number of homes available for sale in January was 1,820,000.
That number spiked to 2,140,000 by May!
What does this mean to you?
With the national job situation improving, and mortgage interest rates projected to rise later in the year, buyers are not waiting until the spring; they are out looking for a home right now. If you are looking to sell this year, waiting until the spring to list your home means you will have the greatest competition for a buyer.
Bottom Line
It may make sense to beat the rush of housing inventory that will enter the market in the spring and list your home as soon as possible.  We would love to come and take a walk through with you to help with items to spiff it up for sale.  Call us any time!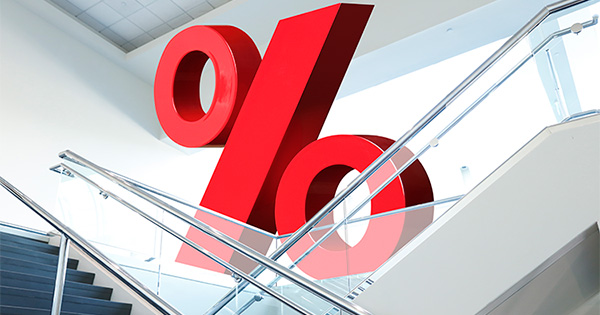 You may have heard that the Federal Reserve raised rates last week… But what does that mean if you are looking to buy a home in the near future? Many in the housing industry have predicted that the Federal Open Market Committee (FOMC), the policy-making arm of the Federal Reserve, would vote to raise the federal fund's target rate at their December meeting. For only the second time in a decade, this is exactly what happened. There were many factors that contributed to the 0.25 point increase (from 0.50 to 0.75), but many are pointing to the latest jobs report and low unemployment rate (4.6%) as the main reason. Tim Manni, Mortgage Expert at Nerd Wallet, had this to say,
"Homebuyers shouldn't be particularly concerned with [last week's] Fed move. Even with rates hovering over 4 percent, they're still historically low. Most market observers are expecting a gradual rise in home loan rates in the near term, anticipating mortgage rates to stay under 5 percent through 2017."
Bottom Line
Only time will tell what the long-term impact of the rate hike will be, but in the short term, there should be no reason for alarm.
Current Portland Oregon Real Estate Information,

Highlights of Portland Oregon, House Ideas

Portland Real Estate, Portland Oregon Top Producer, Windermere Top Producer, Portland Realtor, Portland Homes for Sale
Windermere Top Producer Cary Perkin
photo credit to (Henry Cromett)
I love a good night out after work.  Now that we don't have kids at home, we can do it any night of the week!  Yet I'm always scratching my head trying to decide where to go.  Do you do that?  So annoying to forget the name of that place you wanted to try…..
So here's a list for you, compliments of the wonderful Willamette Week.
Aalto Lounge
3356 SE Belmont St., 503-235-6041, aaltolounge.com. 5-7 pm daily.
Best deal: The $2 full-sized Belmont Jewel Cocktail—a mix of bourbon, lemon, pomegranate juice, and orange blossom water. It goes great with your $2 grilled cheese sandwich.
Ash Street Saloon
225 SW Ash St., 503-226-0430, ashstreetsaloon.com. 4-8 pm daily.
Best deal: Pabst is $1.25. Dare to get the burger for just $3 more.
Bartini
2108 NW Glisan St., 503-224-7919, bartinipdx.com. 3:30-6:30 pm, 10 pm-close daily; all day Monday. 
The Gorgonzola-brie fondue is the best, and it's easily shareable. Skip the $6 cheeseburger, but definitely get the $3 mashed potatoes in a martini glass, served with a wedge of brie. Drinks are half-price during happy hour, which is most of the hours Bartini is open. Expect sweetness and possibly a flower or sprig of mint; but at $4 apiece, these drinks seem to say what your best friend would. Treat yourself, girl—you deserve it! SOPHIA JUNE.
B-Side Tavern
632 E Burnside St., 503-233-3113. 4-7 pm daily.
Best deal: $1 tallboys.
Belmont Inn
3357 SE Belmont St., 503-232-1998, belmontsinn.com. Drink specials 11 am-6 pm, food specials 3-6 pm daily.
Best deal: Quesadillas—cheap to make or order. $3 gets you bean and cheese, $5 a loaded Southwestern.
Beulahland
118 NE 28th Ave., 503-235-2794, beulahlandpdx.com. 4-7 pm daily.
Pabst is $2, crafts are $4 and wine is an improbably cheap $4. Combine any of those with 6 wings for 6 bucks and you're probably ready for the Timbers game to start in the side room. But my favorite item on the menu is a rotation of house pickles for $3. Because pickles.
Conquistador
2045 SE Belmont St., 503-232-3227. 4-7 pm daily.
Best deal: $6.50 happy-hour nachos will feed you and a friend.
Dots Cafe
2521 SE Clinton St., 503-235-0203, dotscafeportland.com. 2-7 pm and 11 pm-1 am Monday-Friday.
Best deal: $3.50 wells, $3.50 select craft brews, $4 nachos.
Dragonwell
735 SW 1st Ave., 503-224-0800, dragonwellbistro.com. 3-6 pm Monday-Friday, 9-10 pm Friday-Saturday.
Best deal: A $3.50 Sapporo draft and an order of the garlic spiced chicken wings work just fine.
The Fixin' To
8218 N Lombard St., 503-477-4995, thefixinto.com. 2-6 pm Monday-Friday.
Best deal: The Down and Out—Hamm's and a shot of Old Crow—is $4. A large Rotel and chips, like a nacho you dip yourself, is $5.
Florida Room
435 N Killingsworth St., 503-287-5658. 3-7 pm daily.
Best deal: All is cheap, and at happy hour it's 50 cents cheaper. Plus, you know, $3 corn dogs and fries.
Imperial
410 SW Broadway, 503-228-7222, imperialpdx.com. 2-6 pm Monday-Friday, 3-6 pm Saturday-Sunday; late night 10-11 pm Sunday-Thursday, 11 pm-midnight Friday-Saturday.
Best deal: $5 Vieux Carré. And then another one. And the $4 liver pâté.
Kelly's Olympian
426 SW Washington St., 503-228-3669, kellysolympian.com. 4-7 pm daily, 11 pm-1 am Sunday-Thursday.
Best deal: Just get the mac-and-cheese balls. They're $5.
Little Bird
215 SW 6th Ave., 503-688-5952, littlebirdbistro.com. 2:30-5 pm (6 pm at the bar) Monday-Friday, 10 pm-close daily, all day Sunday.
Best deal: Don't tell, but that $5 burger is actually a $14 burger in disguise.
Luc Lac
835 SW 2nd Ave., 503-222-0047, luclackitchen.com. 4-7pm daily.
Best deal: The cream cheese wontons, shrimp spring and crispy rolls, and a chicken salad is a four-course dinner for $9, and a $4 Kostritzer Schwarzbier is a rare treat.
M Bar
417 NW 21st Ave., 503-228-6614, facebook.com/mbar.portland. 6-8 pm daily.
[CHEAPEST GOOD WINE]
Best deal: It's possible to get a decent, well-selected glass of wine for $3 at happy hour. That can be said of…nowhere else.
Maui's
3508 N Williams Ave., 503-282-1611. 4-7 pm daily.
Best deal: The $2.50 wells are, uh, worth it.
Mi Mero Mole
32 NW 5th Ave., 971-266-8575; mmmtacospdx.com. 2-6 pm Monday-Saturday.
Best deal: Seriously, a $4 margarita with $5 nachos is gringo paradise. MATTHEW KORFHAGE.
Momo
725 SW 10th Ave., 503-478-9600. 3-8 pm daily.
Best deal: $3 wells! Beer is for chumps.
My Father's Place
523 SE Grand Ave., 503-235-5494, myfathersplacepdx.com. 4-6 pm and 10 pm-midnight Monday-Friday, breakfast special 6-10 am.
Best deal: A stiff gin and tonic and a $2 pulled-pork slider with fries. Only $5 poorer, and the day already feels much different.
NEPO 42
5403 NE 42nd Ave., 503-288-8080, nepo42.com. 3-6 pm daily.
Best deal: The $6 Evinrude Special (Evan Williams Green Label and Old German tallboy), plus the $6 OG Dog (a ginormous frankfurter wrapped in a sturdy potato bun and slathered with jalapeño relish, homemade sauerkraut, and a house mustard itself steamed with Old German). Area dives may offer their own variations for one-third the price, but Wilde had another quip about cynics who know the price of everything and the value of nothing.
Night Light Lounge
2100 SE Clinton St., 731-6500, nightlightlounge.net/home. 2-7 pm Monday-Friday, 3-7 pm Saturday-Sunday, 11 pm-1 am daily.
Best deal: The $6 nachos, which look about a full foot high and are layered hot with guacamole, jalapeños, green and red onion, pico de gallo, sour cream and black olives. Wash it all down with a $1.50 pint of PBR.
North Bar
5008 SE Division St., 503-546-9973, northbarpdx.com. 3-7 pm daily.
Best deal: $1 PBR all day Tuesday, and $5 margaritas every day at happy hour from the bar's slushie machine.
Paymaster Lounge
1020 NW 17th Ave., 503-943-2780, paymasterlounge.com. 2-6 pm daily.
Best deal: $7 burger and fries, $4 Sauza.
Rae's Lakeview Lounge
1900 NW 27th Ave., 503-719-6494, raesportland.com. 2-6 pm daily.
Best deal: $1 High Life, $1 Rainier, $1 mimosa, $3 biscuits.
Renner's Grill
7819 SW Capitol Highway, 503-246-9097, rennersgrill.com. Noon-1 pm power hour, 3-6 pm, midnight-2:30 am daily.
Best deal: The bartender we talked to swears by the $6 triple-drumstick deal. We mostly just swear after drinking too much.
Scandals
1125 SW Stark St., 503-227-5887, scandalspdx.com. 4-8 pm daily and all day Sundays.
Best deal: $1.50 Pabst is cheap anywhere.
Slingshot Lounge
5532 SE Center St., 503-445-6649. 3-7 pm Monday-Friday.
Best deal: $1 pint of Olympia and $3 for so many fries.
Spare Room
830 NE 42nd Ave., 503-287-5800, spareroomrestaurantandlounge.com. 3-6 pm daily.
Best deal: Come on Tuesday at 5 pm, and get meatloaf and a PBR for $6.25 total.
Star Bar
639 SE Morrison St., 503-232-5553, star-bar-rocks.com. 4-8 pm daily.
Best deal: Tot'chos and a pint of Pabst, together at last for a mere $6.
Swift Lounge
1932 NE Broadway, 503-288-3333, swiftloungepdx.com. 4-8 pm Monday-Saturday, 4 pm-2 am Sunday.
Best deal: The Old Couple, a tallboy of Old German with a shot of Old Crow for $4.
Tapalaya
28 NE 28th Ave., 503-232-6652, tapalaya.com. 4-6 pm daily.
Best deal: $6 wings, $3 martinis.
Yamhill Pub
223 SW Yamhill St., 503-295-6613. 10 am-4 pm, 4-7 pm Monday-Friday.
Best deal: A pint of Pabst and a quaff of cheap whiskey for $3 total.
CHEERS!
Current Portland Oregon Real Estate Information,

Highlights of Portland Oregon, House Ideas

Portland Real Estate, Portland Oregon Top Producer, Windermere Top Producer, Portland Realtor, Portland Homes for Sale
Windermere Top Producer Cary Perkin
The Gypsy bar and restaurant on the corner of NW 21st and Irving closed in 2014, and as of this week the building is officially being torn down to make room for a new 4-story, 57-unit apartment building. In addition to the residential space, there will be 10,000 square feet of commercial space on the ground level and a 62-space underground parking garage.
Here is a look at the demolition, as seen on my walk to coffee recently: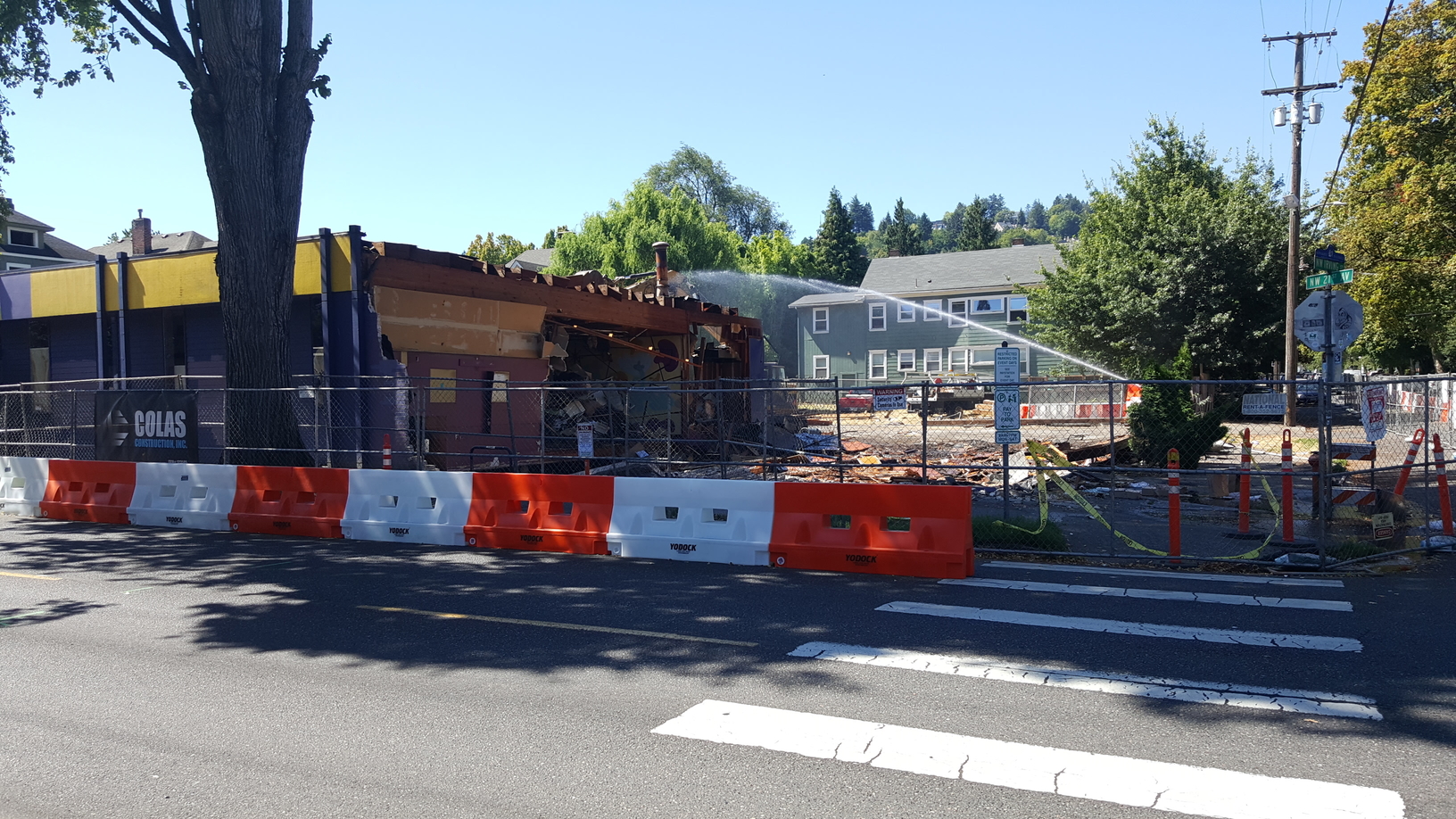 Now it's just a huge hole in the ground.
And here are the mockups of the new building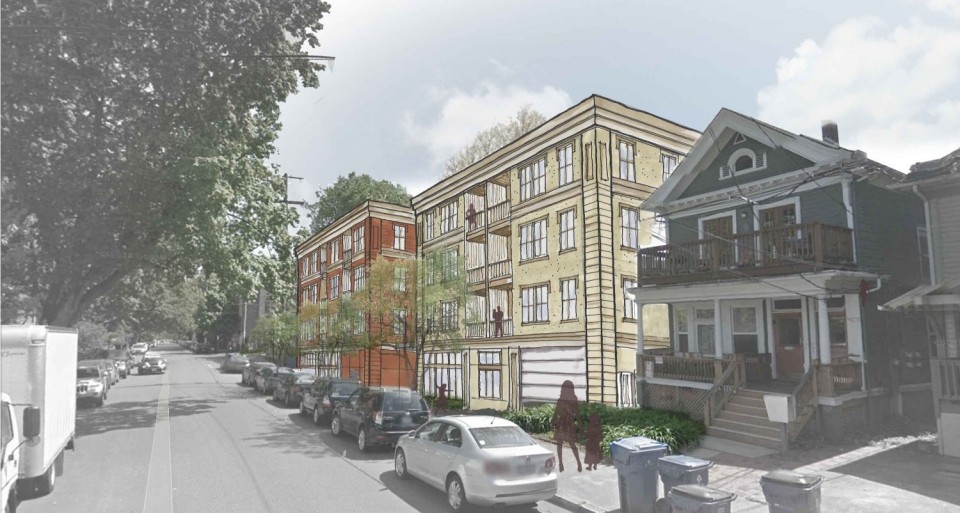 It fits in the neighborhood beautifully, though it's going to put a dent into my commute through the winter!
The Portland Airport is about to get a little sweeter with one of my favorite foods….donuts!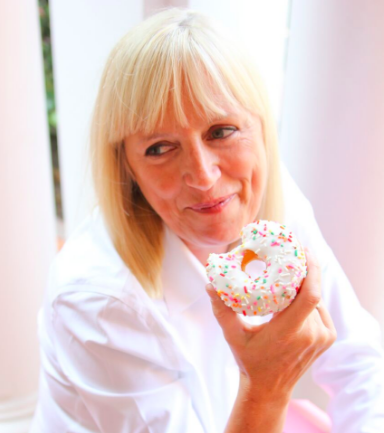 Article courtesy of Kelly Clarke, Portland Monthly
Tourists bustling through the Portland International Airport will have to make room for boxes of hard cider fritters and Cointreau crème brulee rounds atop their carry-on bags: local doughnut empire Blue Star Donuts just inked a deal to open a PDX location by November of this year. The outpost, which joins a superstar list of local businesses with airport spots, from Country Cat to Stumptown Coffee, will be located in the Oregon Market area, before travelers reach the security gate.
"I'm absolutely thrilled," says Blue Star CEO/owner Katie Poppe, who launched the chain with biz partner Micah Camden. "The Port is working really hard to create this mini Portland utopia and we're honored to be part of that." The new airport shop will stock grab-and-go half- and baker's dozen boxes of its brioche-style doughnuts, fresh-glazed single rounds, and Coava Coffee Roaster's "Blue Star Blend" drip and packaged coffee.
The expansionist-minded local chain currently boasts four Portland outposts, an L.A. shop, and a pair of locations on Tokyo. (Psst: Blue Star is slated to open five more locations in Japan come September—three in Osaka and two more in Tokyo.)
What Blue Star creation must visitors cart back to their hometowns?
"It's gotta be the blueberry bourbon basil doughnut," says Poppe, referencing the buzzed-about flavor that made cover of Bon Appétit magazine in May. "If it's gonna be your first, it might as well be a cover model."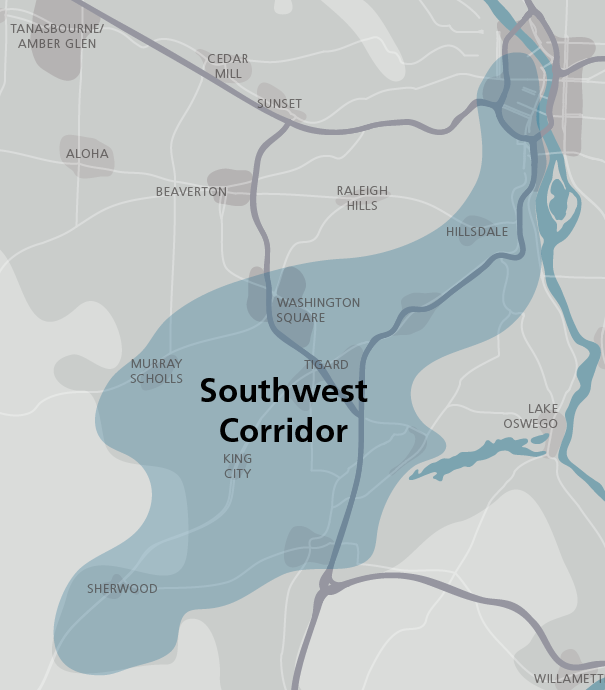 The SW Corridor refers to the large area extending from SW Portland down I-5 to Sherwood, an area which is growing quickly yet lacks public transportation options to keep up with the increasing traffic.
The upcoming SW Corridor plan includes the addition of a new Max line that would extend from the South Waterfront all the way down to Bridgeport Village, added bike lanes, bus lanes, sidewalks, and park & ride lots to help clear up the I-5 traffic.
According to Tri-Met, voters in Tigard will have the power to make this reality in the November ballot.
I'm really hopeful this next phase of Portland's light rail project will come to fruition. Traffic to and from Tigard and all around 217 is just a bear!
Take a look at this article to learn more about the project:
http://www.oregonmetro.gov/news/looking-ahead-10-questions-about-southwest-corridor
Fascinating article in Portland Monthly about the changes coming to Portland – enjoy!
Portland is Changing Faster Than You Can Believe
Here are five big game changers already in the works.
1) Our River Is About to Get the Most Extreme Makeover Ever
.
By the end of 2016, after decades of discussion, plans will take shape for a massive, federally mandated cleanup of the Willamette River. Portland's waterway is currently awash with industrial PCBs, heavy metals, dioxin, and other contaminants. It's likely the cleanup (shorthand: Superfund) will take decades, with cost estimates running as high as $2.5 billion. (Figuring out which of about 150 companies and government entities historically responsible for the pollution still exist, and who will pay what to fund the cleanup, is a major challenge.) The mandatory monitoring will continue for … oh, 100 years. At stake in a process that will run beyond 2116? "The river is a major economic engine," says Michael Jordan (not that one), director of the city's Bureau of Environmental Services. "To meet our population and employment projections, thousands of jobs need to be produced around the river. Add in risks to the environment and human health, and this is significant."
2)

Portland Is About to Rewrite Its Own Blueprint.

As the Portland City Council readies to vote on a new "Comprehensive Plan" to guide development of the entire city, relish the differences, in specifics and zeitgeist, between the new plan and its predecessor, adopted 36 years ago.
Pages Then: 34
Pages Now: (draft) 270
Vision Statement
Then:

"Portland is more than a geographic area—it is a way of life."

Now:

"

Portland is a prosperous, healthy, equitable and resilient city where everyone has access to opportunity and is engaged in shaping decisions that affect their lives."

(Subtext: Portlandia: it's really a sequel.)
Projected Growth
Then:

Population: 368,148

Projected – 20-year growth: 45,000

(Actual 20-year growth: 54,000—or 160,973 counting annexations)

Now:

Population: About 610,000

Projected 20-year growth: 260,000 (Subtext: Squeeze in. The elevator's going up!)
The Glossary
Then:

What glossary?

Now:

152 words or phrases defined, from "mode split" to "Portlander" (Sample: "Continue—Persist in an activity or process.")
Neighborhood Involvement
Then:

162 words. Sample: "Encourage citizen involvement in land use planning projects by actively coordinating the planning process with relevant community organizations."

Now:

2,554 words Sample: "Maintain partnerships and coordinate land use engagement with: individual community members; communities of color, low income populations, Limited English Proficient (LEP) communities, Native American communities, and other under-served and under-represented communities … " (It keeps going. And going.)
Geeky Lingo
Then:

"Nodes and Noodles"

Now:

"Centers and Corridors" (Our old plans were funnier.)
3) Affordable Housing's secret? Trust.
Searing-hot home and rental markets can look pretty doomy to housing advocates, not to mention low-income Portlanders looking for places to, y'know, live. But some strategies have already proven themselves.
The nonprofit Proud Ground, for example, has used a property structure called a community land trust to make about 260 metro-area homes "permanently affordable." Typically, the organization—in partnership with governments, other nonprofits, or both—buys an existing home as it comes on the market. After any necessary repairs, the home is sold to a low-income buyer, with as little as $500 down and a fixed mortgage. (Median monthly payment: $1,037.) The trust structure allows the buyer to build equity—$60,000 over 10 years on average, the organization estimates. But Proud Ground also shares the equity, an arrangement which allows the home to be sold at below market rates when the original owner is ready to move on.
"The housing stock is out there," says Diane Linn, Proud Ground's executive director. "We're going to advocate at every level of government and use every tool we can to add properties to our portfolio." The aspirational goal: 400 homes by 2020.
4) The Edge Will Be the Center.
In Portland's development boom, former fringe zones will become hotbeds of action.
Lents
THE WAY IT WAS The Southeast neighborhood oft derided as "Felony Flats," long a go-to example of revitalization dreams deferred
CHANGE AGENTS In 2014, the Portland Development Commission jump-started lumbering renewal with a capital-letter-optimized "Five-Year Action Plan."
THE VISION "I think we're cementing this as a vibrant neighborhood," says outgoing PDC director Patrick Quinton. "Now we need to think about how to execute our plans while maintaining the character of the community."
BIG MOVES Coming to SE 91st and Foster: the 34,200-square-foot Asian Health and Service Center, with design by Holst Architecture; a trio of mixed residential and commercial buildings involving veteran developers Williams/Dame and Palindrome and respected architecture firms Hacker and Ankrom-Moison.
Downtown's Southern Edge
THE WAY IT WAS A sleepy village around Portland State, girdled by a highway, enlivened only by a Cheerful Tortoise (the 64-year-old, just-off-campus sports bar)
CHANGE AGENTS PSU is renovating and building like mad, and MAX, streetcar, and bus lines have made this the city's busiest transit hub.
THE VISION "Ten years from now," says Portland State spokesman Scott Gallagher, "it will be hard to distinguish between the core of downtown and the south end."
BIG MOVES The $60 million renovation of PSU's business school will turn a bunker-like building into an airy sustainability showcase by 2017. That same fall, the retrofitted Viking Pavilion will reopen as a 5,500-max-capacity arts and sports venue. Buildable lots at PSU's eastern edge—like SW Fourth and Harrison—will sprout mixed-use density.
The Broadway Corridor
THE WAY IT WAS The Northwest Portland seam between the Pearl District and Old Town, rendered comatose by the hulking, 14-plus-acre US Postal Service headquarters complex
CHANGE AGENTS After years of trying, PDC is finalizing an $88 million deal for the Postal Service site.
THE VISION A dense neighborhood that knits the Pearl to the Rose Quarter. "You can reweave sites that have been islands in the city," Quinton says.
BIG MOVES While design details are very much TBD, the agency envisions the USPS land as high-rise developments, extended North Park Blocks, and a huge batch of new housing, designed to complement Union Station and kick-start vacant lots on either side of Broadway.
5) One
Temple's Doom Signals a Battle Over History.

Late last year, the circa-1892 Ancient Order of United Workmen Temple—an imposing brick hulk in the Richardsonian Romanesque style at SW Third and Taylor—became the latest in a string of historic local icons (including Centennial Mills, the Portland Building, and Veterans Memorial Coliseum) threatened with demolition. The tipoff came when the temple's new owner, development firm T&T, had the building removed from the city's Historic Resource Inventory—a list of buildings that, in theory, can't be demolished until after a stipulated 120-day waiting period.
After an appeal by the preservationist group Restore Oregon, developers agreed to wait out the 120 days before dismantling the building to clear the way for a hotel and offices. According to T&T's Jeff Arthur, salvation just won't pencil out. "It's one of the tallest unreinforced masonry buildings in the city. 'Seismic' wasn't a word when they built this," Arthur says. "We're still continuing to evaluate, but we're definitely leaning at this point toward taking it down."
For preservationists, Workmen Temple's demolition may be a call to action. Jillian Detweiler, a spokeswoman for Mayor Charlie Hales, says the city intends to close the loophole that allows owners to remove buildings from the Historic Resource Inventory. And Restore Oregon's Peggy Moretti argues the state needs "more carrots and more sticks" to make historic preservation feasible. "In every other state, local jurisdictions have a say in designating what's historic," she says. "And other states would have more financial incentives at their disposal." But moves to constrain developers could be a tough sell: legislation backed by Restore Oregon, which would have provided incentives to renovate historic commercial buildings, failed last year. Meanwhile, it's likely that by this summer, the onetime fraternal clubhouse will literally become history.
http://www.pdxmonthly.com/articles/2016/3/25/portland-is-changing-faster-than-you-can-believe
Statistics for the 97229 Zip Code through February 15, 2016
Properties for sale: 108

New Listings: 110

Sold Properties: 89

Pending: 97

Months of Inventory based on closed sales:112

Months of Inventory based on pending sales: 1.1

Absorption Rate (Closed Sales) %: 82.4

Absorption Rate (Pending Sales) %: 89.8

Average Active Listing Price: $818,000

Average Sold Price: $479,000

Average Price/Square Foot (Sold Listings): $211

Sold Price/List Price Diffential: 100%

Sold Price / Original List Price Diffential: 98%

Days on Market: 39

Medial Sale Price $475,000
New homes for sale are down 29% current -vs- same quarter 1 year ago and up 11.2% in the last month
Sold homes are up 36% current -vs- same quarter 1 year ago and down 25.7% in the last month
Pending sales are down .7% current -vs- same quarter 1 year ago, and up 4.8% in the last month
It's a great time to sell in 97229!
Current Portland Oregon Real Estate Information,

Highlights of Portland Oregon, House Ideas

Portland Real Estate, Portland Oregon Top Producer, Windermere Top Producer, Portland Realtor, Portland Homes for Sale
Windermere Top Producer Cary