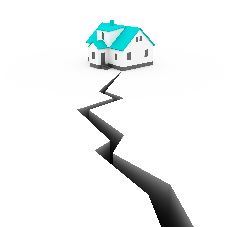 Today at lunch with clients we talked about the big earthquake scare that's been all over the news lately. Is the "Big One" hitting Oregon in the near future? In our lifetime? How can we protect ourselves and be prepared?
Mega earthquakes (8.7–9.2) occur regularly in the Pacific Northwest. The last mega quake that shook Portland occurred on January 26, 1700. For the past 10,000 years, the average time between mega quakes has been 300 years. Is it time?
The next mega quake may shake the foundations from Vancouver, BC to northern California. It could be the largest natural disaster in U.S. history, dwarfing Hurricane Katrina in damage, suffering and costs. In Portland, thousands of people could die and tens of thousands might be injured. Thousands and thousands of Portlander's could end up homeless, as homes built before 1980 slip off their foundations, crumple and collapse. (Note: Older houses were not attached to the foundations – only gravity keeps them in place.)
Not all damage will be physical. The equity in the house they live in is where the wealth is stored for most middle class Americans. For unprepared homeowners, an earthquake could not only destroy their homes, if they survive, it could also leave them with nothing except a mortgage payment for a house that no longer exists. Bankruptcy may be final aftershock.
We cannot prevent earthquakes. We can, however, be prepared. Minimal preparation includes:
Attaching your house to the foundation (also called seismic retrofitting). The city estimates that there are 105,000 Portland homes that were built before 1970 and therefore were probably not initially bolted to their foundations. That makes them highly vulnerable during a major quake; they could be knocked off their foundations and damaged to the point that they are uninhabitable. Of course, some homeowners have bolted their houses down in the years since they were built, but we don't know how many. The city's best estimate is that at least 50,000 homes are still not bolted down. Fortunately, in most cases, it is not insanely expensive to bolt a house down. A local contractor that does a lot of seismic strengthening says the average cost is $3,400. For some people, that's a lot of money. But for people who can afford to spend $20,000 remodeling their kitchen, it's feasible. That's why the Bureau of Development Services, supported by Commissioner Dan Saltzman, is developing a strategy to make sure that whenever Portlanders apply for building/remodeling permits, they get information about the importance and relative ease of quake-proofing their homes.
Buying earthquake insurance (most insurance companies require seismic retrofitting).
Having emergency provisions of food, water, pet food, prescription medicine, etc.
Creating a family plan. All communications except satellite phones will be down for several weeks—Who picks up the kids? Where does your family meet? Who is out of area contact to convey messages?
Protect yourself. Prepare your family for an earthquake. To learn how to prepare for an earthquake and other natural disasters, go to the following link:
http://www.oregon.gov/DOGAMI/pages/emergencykit.aspx
We can preserve our neighborhoods by taking simple steps to ensure that our neighborhood houses survive The Big One.
Please call me if you'd like help in locating resources for seismic retrofitting, earthquake insurance and earthquake survival kits.
Courtesy of: All Things Real Estate Newspaper/Oregonlive.com
Current Portland Oregon Real Estate Information,

Highlights of Portland Oregon, House Ideas

Portland Real Estate, Portland Oregon Top Producer, Windermere Top Producer, Portland Realtor, Portland Homes for Sale
Windermere Top Producer Cary Perkin
I've been waiting for something wonderful to open in the Ladd Building, which was scheduled to be demolished to make way for the Ladd Tower, but was saved, moved, and then moved back again into the shadow of the tower. Very dramatic. But then it sat empty for a long time, and so I'm just thrilled that it's now getting the happy ending it deserves! See the Oregonian article about the new restaurant, Raven and Rose, that is set to open there next week.
Portland Oregon Real Estate
When downtown Portland's new restaurant Raven & Rose officially opens next week in the historic Ladd Carriage House, diners may feel they've been transported back to the Victorian era.
"My number one goal was to create a space that looked like it belonged in this building," said owner Lisa Mygrant during a walk-through of the two-story gastropub on Wednesday. "It has a timeless feel. It could have belonged to that era or now."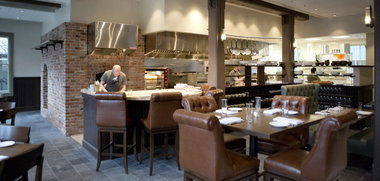 Turning the restored 1880s building, which is listed on the National Registry of Historic Places, into a restaurant took just over 14 months, Mygrant said. Much of that time was spent creating the physical infrastructure for the restaurant, since the carriage house was basically a hollow shell with no pipes, duct work or wiring.
The main floor features an exposed kitchen with a wood-fired oven made out of bricks reclaimed from the carriage house's original fireplace and chimney. Gas lanterns are suspended over booths, as well as two-person tables along a long, cushioned banquette. In the center of the dining room is a custom-made bar with a hand-hammered zinc top, complete with four wines and nine beers on draft, including one cask-conditioned ale.
Steps to the second floor lead to a waiting area outside of the restaurant's pastry kitchen, as well as what may be the restaurant's crown jewel, the "rookery" bar, located where the carriage house's hay loft originally was. The space features another custom-made bar, a library nook that can be used as a private meeting space, and leather couches in front of a gas fireplace. The space also will contain a pool table.
Raven & Rose is aiming for LEED gold-certified status, and reuse of materials has been emphasized throughout the restaurant's design. Bar tables have been constructed out of old walnut shipping crates, and the upstairs floor is made of reclaimed and refinished horse fencing. Over the restaurant's entryway is a ceiling that was part of the carriage house's original living quarters.
The initial menu from longtime Portland chef David Padberg (Wildwood, Clarklewis, Park Kitchen) will feature rustic, wood-fired dishes, like a recent braised short ribs, Yorkshire pudding, roasted root vegetables and beet-kidney sauce that was served at a thank-you dinner for the restaurant's construction crew. Behind the bar is Dave Shenaut, (formerly of Beaker & Flask and Riffle NW), who has designed a menu of historic cocktails designed to evoke the building's history.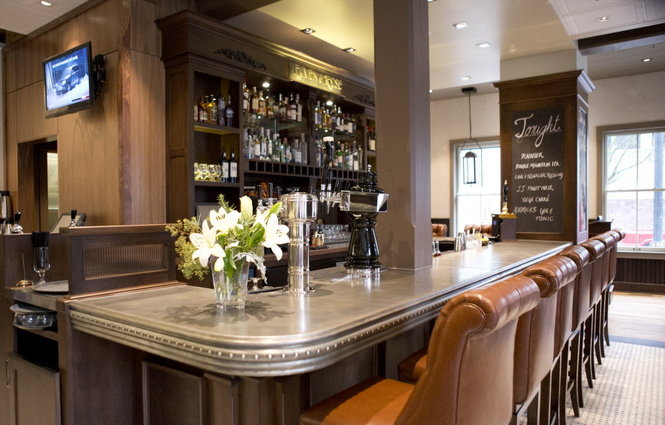 The restaurant is just the latest chapter in the building's long history. It went up in the 1880s to house Portland business leader William Ladd's carriages, horses and coachmen. In the 1920s, it was converted into shops and offices, and was remodeled as a law firm in 1972. But in the middle of the last decade, as plans got underway to build the Ladd Tower, a 23-story apartment building on the same block, the carriage house was tapped for demolition. Preservationists rallied to save the building.
In 2007, the building was placed on blocks and moved several blocks west on Southwest Columbia Avenue, where it sat in a parking lot as construction progressed on the tower. It was moved back the next year, then underwent extensive restoration to its exterior, outside walls and roof. Construction on Raven & Rose began in late 2011.
Raven & Rose will officially open for happy hour and dinner Tuesdays through Saturdays beginning Friday, Jan. 4. The restaurant plans to add full daily lunch and dinner service by early March.
Raven & Rose is at
1331 S.W. Broadway
503-222-7673
adapted from an article that appeared in The Oregonian on December 28, 2012 titled Restaurant first-look: Inside downtown Portland's Raven & Rose in the historic Ladd Carriage House / oregonlive.com
http://www.oregonlive.com/dining/index.ssf/2012/12/restaurant_first-look_downtown.html
According to CNN's 25 Best Places to Retire, Portland is number two!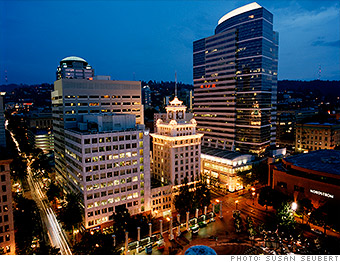 Whether you dream of retiring to a big city, small town, resort area or college town, these 25 cities offer reasonably priced homes, low crime and tax rates, quality health care, and more.
#1 Albuquerque
#2 Portland
Best if you're looking for: Big city
Median home price: $272,000
Top state income tax: 9.9%; no sales tax
Famous for its food and bike cultures, Portland is a thriving but manageable city that gives retirees easy access to just about anything.
To see a revolving door of art exhibits, performing arts, and festivals, look no further than downtown and the nearby Pearl District.
No need to leave the city for outdoor adventures; Portland has one of the largest urban forests in the country (wine country and beaches are just a short drive away). It's also home to several award-winning hospitals, including the Oregon Health & Sciences University, whose research center attracts experts and patients from around the country.
See complete data for Portland
I have helped many retirees find their dream home in the Pearl District, Lake Oswego, suburban Portland, and outlying small towns like Canby, Sherwood and Hillsboro. I've also helped a number of seniors sell their homes and find great accommodations in Senior Centers and Assisted Living. Please let me know if I can help you retire in Portland!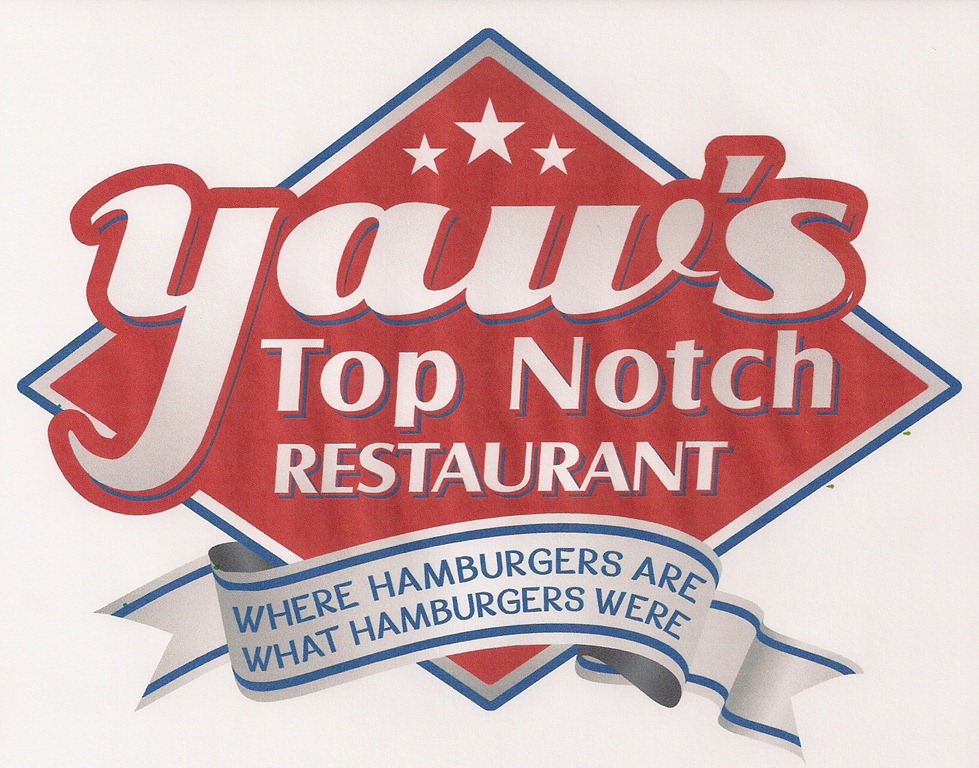 Yaw's is legendary in old Portland…this drive-in restaurant in Hollywood was the cause of many traffic jams and missed curfews in the good old days. Having been gone for 30 years, it's wonderful news to Portlanders to hear that Yaw's Top Notch Restaurant is back.
Grand opening festivities on Monday, October 15 include classic cars in the 14 space car-hop service, and live music on Friday and Saturday, October 19-20 by Johnny Limbo and The Lugnuts. Enjoy the oldies in the new old favorite, Yaw's.
New address: 11340 SE Halsey
More info on their facebook page: