Another fabulous food adventure for Portlandia!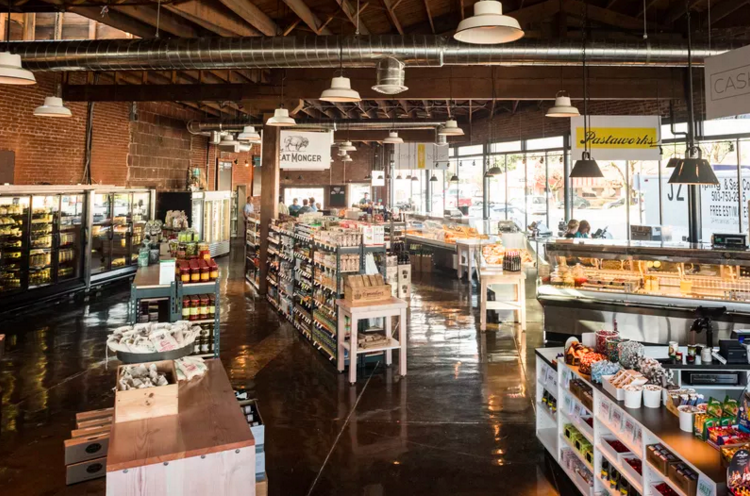 Located at 2340 NE Sandy, Providore Fine Foods opened early February, and in addition to letting you shop for groceries with a glass of wine or beer in-hand, it offers many onsite dining options. Here's what to eat at the new Providore Fine Foods: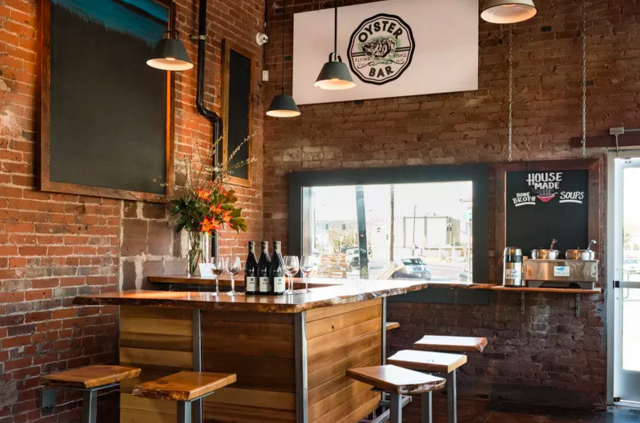 Flying Fish Oyster Bar
12 to 7:30 p.m. daily
For years, the sustainably minded Flying Fish Company has operated out of its mobile fish truck and Hawthorne fish shack, and at Providore Fine Foods, it sells local seafood and operates an 8-seat oyster bar, with standing room at a bar along the window, too. Made of Oregon cherry wood, the bar is tucked in the rear of the store and will offer:
three types of oysters served raw daily. Netarts bay oysters, delivered to Flying Fish the same day they are harvested by Nevor Shellfish, start at $2.

hot Flying Fish Company smoked salmon served on a cedar plank

two daily soups (one seafood, one meat)

bone broth

one red, one white, and one sparkling wine

bottled and canned microbrews and one cider
Image credit: Dina Avila/EPDX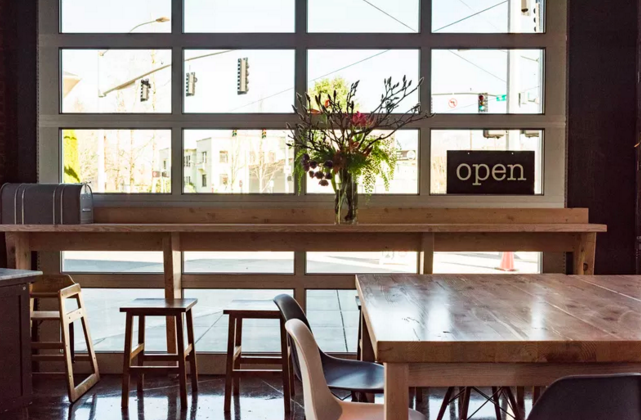 Arrosto
11 a.m. to 7 p.m. daily (tentative)
After discovering Italy's rotisserie chicken with their noses on a trip on the Italian Riviera, Providore Fine Foods and Pastaworks co-owners Kevin de Garmo and Kaie Wellman knew they needed to open a Mediterranean-style rotisserie chicken shack. Arrosto, scheduled to open at Providore Fine Foods by the end of the week, sells its chickens and sides through a window onto the street.
You can either take your order home or dig in in the Providore's seating area. Located at the front of the marketplace, the seating area seats around 20, either at two large communal tables or at a bar along the window. Come summer, the garage doors will roll up and the tables will spill out onto the patio.
Whole, half, and quarter rotisserie chickens. De Garmo says he prefers not to use a brine. "A brine is nice for breast meat, but it can make the rest of the bird soggy." Arrosto salt its chickens; stuffs them with rosemary; and brushes them with rosemary olive oil while cooking.

Every chicken comes with "crispy fat" roasted potatoes and a salad of wild baby arugula, escarole, and radicchio tossed with pecorino, croutons, and dressing.
Image credit: Dina Avila/EPDX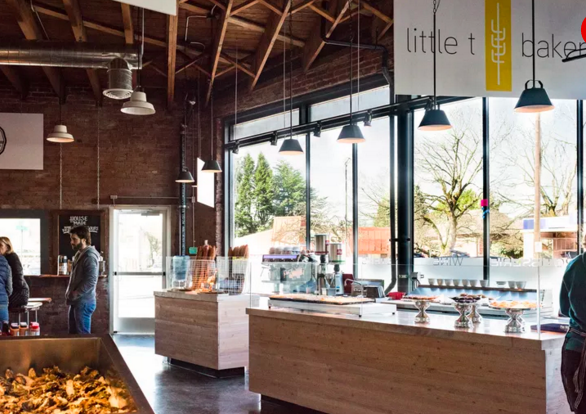 Little T Baker
9 a.m. to 7:30 p.m. daily
With two additional bakery locations in Portland, the local Little T Baker will focus on the following:
baguettes, salt slabs, and other breads

croissants, danishes, and other pastries—breakfast or otherwise

Chocolate chip cookies featuring Woodblock Chocolate and other cookies
Image credit: Dina Avila/EPDX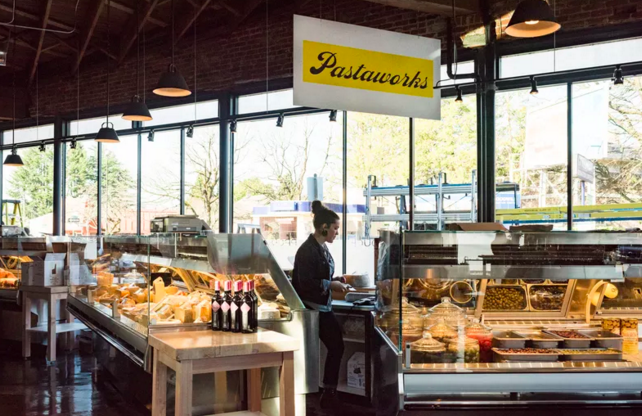 Pastaworks
9 a.m. to 7:30 p.m. daily
Pastaworks has always sold ready-to-eat items, but it's bringing lots of new ideas, including decadent chocolate and hazelnut Baci cookies and a line of foccaccias that now come with optional toppings, like prosciutto. It also hired executive chef Derek McCarthy (Firehouse, Pig & Pie), sous chef Jeff Ciuffetelli (Taylor Railworks, Clyde Common), and baker Abby Ward(Serrato, Tin Shed).
Image credit: Dina Avila/EPDX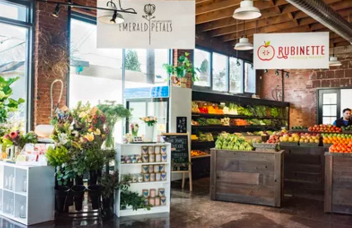 Rubinette Produce Market
9 a.m. to 7:30 p.m. daily
"We'll be the first to deliver local strawberries each year," says owner Josh Alsberg, who hopes to offer both farmers market-level produce and regular hours. To do it, he's enlisted farmers who are willing to grow special produce just for him. The fresh produce options are extensive, but here are some highlights:
lesser-known varieties of fruits and vegetables, from avocados to grapefruits

vegetables you simply aren't likely to find elsewhere, like burdock root, celeriac, and kale sprouts
Current Portland Oregon Real Estate Information,

Highlights of Portland Oregon, House Ideas

Portland Real Estate, Portland Oregon Top Producer, Windermere Top Producer, Portland Realtor, Portland Homes for Sale
Windermere Top Producer Cary Perkin
Portland Holiday Ale Festival
December 2-6, 2015
Pioneer Courthouse Square

Beaverton Tree Lighting
& Holiday Open House
December 4, 2015
4:30-6:30pm
Beaverton City Library

America's Largest Christmas Bazaar
December 4-6, 2015
Portland EXPO Center

Portland Christmas Ships Parade
December 4-20, 2015
Various Locations

2015 Portland Spirit
Cinnamon Bear Cruise
Various Dates & Times

EastBurn 2015 Ciderfest
December 5, 2015
4:00pm
EastBurn

PDX Urban Wine Tour
December 5, 2015
11:00am
Pick Up/Drop Off: EastBurn

Pacifica Annual Holiday
Warehouse Sale
December 5-6, 2015
3135 NW Industrial Street

Hip Chicks Holiday Market
December 5-6, 2015
Noon-5:00pm
Hip Chicks do Wine, Portland

Sleigh Rides on the Water
December 7-20, 2015
Caruthers Landing

Billy Gibbons and The BFG's
December 11, 2015
Doors at 7:00pm
Revolution Hall

The Great Figgy Pudding
Caroling Competition
December 11, 2015
5:30pm
Pioneer Courthouse Square

A Bubbly Spectacular
December 13, 2015
4:00-7:00pm
Pix Patisserie

2015 Holiday Concert Series
w/ Aaron Meyer
December 17-19, 2015

FestiBUS
December 15-23, 2015
7:00pm
$50 / 21+
Portland

Weekend Tea
Dec. 16, 2015 – Jan.1, 2015
2:00 & 3:00pm
Pix Patisserie

Stumptown SantaCon 2015
December 19, 2015
FREE
Tom McCall Waterfront Park

Bulletproof Stockings
December 27, 2015
7:00pm
Aladdin Theater

New Year's Eve Governor's Ball
December 31, 2015
7:00pm
The Sentinel Hotel

Brew Year's Eve
December 31, 2015
7:00pm
Aladdin Theater

Resolution 2016
December 31, 2015
6:30pm-1:30am
WaMu Theater

InspireTruth New Year's
Eve Celebration
December 31, 2015
Portland Art Museum

PORTLAND
PSU Farmers Market
Saturdays Year-round
8:30am-2:00pm
1717 SW Park Avenue

TROUTDALE
Open Air Market
Saturdays Year-round
10:00am-2:00pm
531 E. Columbia River Hw

Button Up Your Home:
Winterizing Solutions

Baby It's Cold Outside!

As the seasons change and your family migrates indoors for the winter, a lot of energy can be wasted to keep your home comfortable. Between 40 and 70% of all home energy is wasted, but we could save about half of that by buying efficient appliances and taking energy-saving measures.

The 10 Biggest Energy Users:

Water Heaters
Refrigerators
Freezers
Air Conditioners
Ranges
Clothes Washers
Clothes Dryers
Dishwashers
Portable Heaters
Lights

And here are some inexpensive solutions to consider:

Cover your air conditioner: If you can't remove your window unit, consider covering it both inside and out. Besides protecting your air-conditioning unit, these covers also help keep cold air from entering your home through the space around the air-conditioner and can be a great way to lower utility bills.

Caulk it: Small spaces and gaps around windows and pipes and wires entering the home create create energy wasting drafts that can cut the efficiency of your heating system. Most caulking products cost under $10; rope caulk, one of the easiest types to apply, sells for about $4 for 40 or 50 feet.

Block drafts: Draft blockers are foam plates that fit behind light switches and electrical outlets to reduce drafts that enter through those spaces. You can get a packet of 10 for about $3 and they're easy to install with just a screwdriver.

Install heat reflectors: These are thin sheets that fit behind radiators, to reflect heat away from the wall and into the room, thereby maximizing each radiator's energy efficiency.

Perform regular maintenance: If you have a forced air furnace, make sure to clean or change the furnace filter about once a month. Most furnaces will need to be professionally cleaned and tuned once a year.

Upgrade your thermostat: Changing your thermostat to a programmable one allows you to control the temperature in your home at different times of the day without you being home. Keep the heat off when you're out of the house and set it to turn back up before you get home. Some also have a second set of settings for weekends, when people usually spend more time at home. The thermostats range from $90 to $175, but can save 12% or more on your energy bill and pay for itself within three years.

Reflective Window Film: Place these thin, plastic sheets directly on the inside of window panes and glass doors. The film reflects inside heat back into your home, reducing the amount that is conducted outside through windows. The film costs about $10 a window and is easy to put on – it adheres to the window directly, or with the help of water from a spray bottle.

Storm Window Kits: It can be expensive to have storm windows installed throughout your house, but there is a less-expensive way to weatherproof home windows. Storm window kits consist of plastic film or sheets to cover the window. Attaching the plastic is done with tape or tacks. Prices range from about $3 to $10 per window.

Weatherstripping: Create a tight seal around all your windows to reduce heated and cooled air from escaping outside. Weatherstrips are plastic, foam, felt or rubber strips that fit around window and door frames with a self-adhesive backing. Prices vary, but average about $5 per window or door.
Thanks to Chicago Title for the fab list!
Current Portland Oregon Real Estate Information,

Highlights of Portland Oregon, House Ideas

Portland Real Estate, Portland Oregon Top Producer, Windermere Top Producer, Portland Realtor, Portland Homes for Sale
Windermere Top Producer Cary Perkin
The camillias are in already bloom & the daffodils and primroses are popping up in my front yard – my first sign that spring is already on its way. After a long, dark winter, spring's bright sun and warm winds are a breath of fresh air. The only downside? All that sunshine spotlights your leaf-filled gutters, cracked sidewalks and the dead plants in last year's flower beds.
Dwight Barnett, a certified master inspector with the American Society of Home Inspectors, shared this checklist to help you target the areas that need maintenance so you can get your chores done quickly, leaving you time to go outside and play in the sunshine.
Check for loose or leaky gutters. Improper drainage can lead to water in the basement or crawl space. Make sure downspouts drain away from the foundation and are clear and free of debris.

Low areas in the yard or next to the foundation should be filled with compacted soil. Spring rains can cause yard flooding, which can lead to foundation flooding and damage. Also, when water pools in these low areas in summer, it creates a breeding ground for insects.

Use a screwdriver to probe the wood trim around windows, doors, railings and decks. Make repairs now before the spring rains do more damage to the exposed wood.

From the ground, examine roof shingles to see if any were lost or damaged during winter. If your home has an older roof covering, you may want to start a budget for replacement. The summer sun can really damage roof shingles. Shingles that are cracked, buckled or loose or are missing granules need to be replaced. Flashing around plumbing vents, skylights and chimneys need to be checked and repaired by a qualified roofer.

Examine the exterior of the chimney for signs of damage. Have the flue cleaned and inspected by a certified chimney sweep.

Inspect concrete slabs for signs of cracks or movement. All exterior slabs except pool decks should drain away from the home's foundation. Fill cracks with a concrete crack filler or silicone caulk. When weather permits, power-wash and then seal the concrete.

Remove firewood stored near the home. Firewood should be stored at least 18 inches off the ground at least 2 feet from the structure.

Check outside hose faucets for freeze damage. Turn the water on and place your thumb or finger over the opening. If you can stop the flow of water, it is likely the pipe inside the home is damaged and will need to be replaced. While you're at it, check the garden hose for dry rot.

Have a qualified heating and cooling contractor clean and service the outside unit of the air conditioning system. Clean coils operate more efficiently, and an annual service call will keep the system working at peak performance levels. Change interior filters on a regular basis.

Check your gas- and battery-powered lawn equipment to make sure it is ready for summer use. Clean equipment and sharp cutting blades will make yardwork easier.
Current Portland Oregon Real Estate Information,

Highlights of Portland Oregon, House Ideas

Portland Real Estate, Portland Oregon Top Producer, Windermere Top Producer, Portland Realtor, Portland Homes for Sale
Windermere Top Producer Cary Perkins

My clients will sometimes say, "I've got a stupid question for you…. what does <insert odd real estate term> mean?
Of course I always respond that there is no stupid question in this process. This is a big deal, buying and selling a house, and one should never feel that they don't full understand every little bit of what is going on. That's why you work with a Realtor who you trust.
Still, it's nice to have a reference for all those terms that come up during your transaction.
Below is a link to the Federal Trade Commission's Real Estate marketplace glossary.
The Federal Trade Commission, the agency that promotes competition
and protects consumers, has prepared this glossary to help you
better understand the terms commonly used in the real estate
Portland Oregon Real Estate Information,
Portland Oregon Highlights.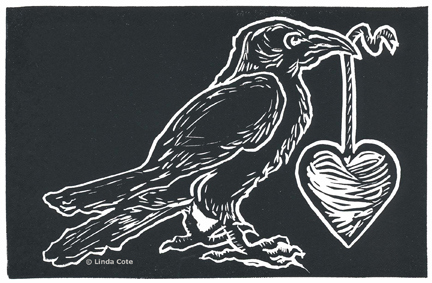 It can sometimes be difficult helping people through the emotional decisions and proceedings as they buy and sell their houses. Certain people rise to the occasion, and others try to drag you downwhen they get tired, grouchy or worried. I've experienced both lately.
Years ago I was told that I'd meet "givers" and "takers," and to try to stick with the "givers." (I don't mean material gifts – I'm talking about their spirits.) Below are little notes from two "givers" who I have had the pleasure of working with recently. They both arrived yesterday, and they absolutely made my day, especially after wrestling with my feelings after a "taker" got super grouchy last week. It's no surprise that these "giver" clients were referred from other clients and friends who are also "givers."
" Dear Cary,
You are amazing! I can't thank you enough for working so hard for us through this entire process. We knew from the get-go you were a stellar realtor, but honestly, you are such a good friend too. We are so blessed to be working with you! You really are our Care Bear 🙂 "
Nghi & Aaron
"THANK YOU!!!!
For everything, over and over. You are such a gem. Pure sunshine.
It was so lovely to see you today, as always.
Have a great week and weekend.
I don't have words for how much I appreciate you.
Best to you always 🙂
xx"
Deaunne
I'm giving thanks for having the opportunity to work with such lovely people!!
Giving Thanks for Love is the name of the Linda Cote print at the top of this post. This beautiful print is available on greeting cards for $5 here, at Linda Cote Studio Printmaking. I'm going to order some today!
According to CNN's 25 Best Places to Retire, Portland is number two!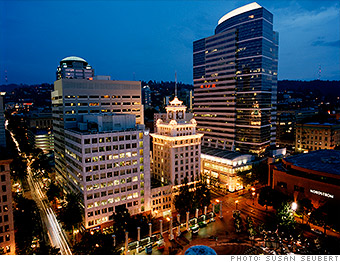 Whether you dream of retiring to a big city, small town, resort area or college town, these 25 cities offer reasonably priced homes, low crime and tax rates, quality health care, and more.
#1 Albuquerque
#2 Portland
Best if you're looking for: Big city
Median home price: $272,000
Top state income tax: 9.9%; no sales tax
Famous for its food and bike cultures, Portland is a thriving but manageable city that gives retirees easy access to just about anything.
To see a revolving door of art exhibits, performing arts, and festivals, look no further than downtown and the nearby Pearl District.
No need to leave the city for outdoor adventures; Portland has one of the largest urban forests in the country (wine country and beaches are just a short drive away). It's also home to several award-winning hospitals, including the Oregon Health & Sciences University, whose research center attracts experts and patients from around the country.
See complete data for Portland
I have helped many retirees find their dream home in the Pearl District, Lake Oswego, suburban Portland, and outlying small towns like Canby, Sherwood and Hillsboro. I've also helped a number of seniors sell their homes and find great accommodations in Senior Centers and Assisted Living. Please let me know if I can help you retire in Portland!
The second season of Portlandia, a critically-acclaimed show, if you've never heard of it, on IFC that lovingly lampoons life in one of the country's most unique cities, recently wrapped up its season. But you want to know what's even more fun than watching Fred Armisen make jokes about Portland, Oregon on your television? Tuning into the actual city itself!
Should you need a little push, here are 10 compelling reasons to book a flight, like, now (speaking of which, here's a list of airfares to PDX).
#1 It's exactly what you think.
Funny hats, food trucks, obsessive baristas, urban gardening, bike lovers: Portland is practically a laboratory of all that's hip and cool in North America right now. Soak up the vibe with a visit to the city's legendary Saturday Market, which just launched its 36th season. The event — which actually runs both Saturdays and Sundays, in the city's historic Chinatown area — features tons of local artisans, as well as plenty to eat (portlandsaturdaymarket.com).
#2 The city has an amazing arboretum.
Any city can do parks, but how many have gigantic arboretums, brimming with gorgeous flora from around the world, plonked directly on top of the downtown area? Just a short hike up from the bustle of the city center, the cool, green forests and manicured gardens of the Hoyt Arboretum remain one of Portland's finest assets (hoytarboretum.org).
#3 Emerging artists.
Portland is known for inspiring its share of creativity, and schools like the Oregon College of Art — with a handsome campus among the trees on the edge of town — do their part to help channel all that inspiration. See tomorrow's big names today at the school's ever-changing Centrum Gallery, which rotates monthly with work from current students, as well as alumni and faculty. The Retail Craft Gallery on campus sells the work of more than 100 artists, all affiliated with the college (ocac.edu). A short drive down Burnside, back in the heart of town, the Pacific Northwest College of Art is a partner in the cutting-edge Museum of Contemporary Craft, which features a free First Thursday (of every month) event, where the museum stays open into the evening hours (mocc.pnca.edu).
#4 Distillery Row.
We all know there's a ton of really good beer around here. Has been for ages. But even cooler is the rise of the city's Distillery Row, a collection of — you guessed it — distilleries located within walking distance of one another, just east of the Willamette River. Together, they are working to ensure that nobody ever needs to drink out-of-town whiskey — or gin, or vodka or rum — again. Each stop on the Row keeps weekend drop-in tasting hours; learn more at distilleryrowpdx.com.
#5 Local brews.
Seriously. Coming to Portland and not drinking the local beer is kind of like going to New York and refusing to eat pizza. From Deschutes Brewery's heady black beers to Laurelwood's Organic Green Mammoth IPA, you really can't go wrong; make sure to also sample the more obscure stuff, such as Upright's complex sour beers or Cascade Brewing's barrel-aged Bourbonic Plague, with an ABV of — mind how you go — 12 percent. To brush up on the scene, check out portlandbeer.org.
#6 Gorge-ous scenery.
Remember how Seattle used to be the cool town and Portland was that little thing you sort of just breezed through? Well, Portland's the one everyone's paying attention to now, and you can still breeze through it. There's sprawl here, but not much. From the middle of town to the beginning of the protected Columbia River Gorge National Scenic Area can take as little as 20 minutes. Once in, get off the freeway and slow down. There are dozens of waterfalls, more than 100 great hikes of all difficulty levels and of course, that incredible scenery. Map out your route at gorgefriends.org.
#7 A coffee maven's haven.
Portland's coffee is some of the country's best. How good? It's best-known roaster, Stumptown, went on not only to become an immense hit in New York City, but it's also getting its hooks into Seattle, too. They're still the big guy around here, but they're also just a start. Other roasters to know include Coapa, with its chic café in the Industrial District, Courier Coffee on SW Oak Street and Exacto Coffee, which is served at the cool GrindHouse Coffee in up-and-coming corner of North Portland. (Which you can refer to as NoPo, if you like.) If you're in a downtown hotel, your best bet is Sterling Coffee's simple but perfect Coffeehouse Northwest up on Burnside. It's been around a few years now, but it's still one of the most perfect venues in town. Learn more about what's brewing locally at caffeinatedpdx.com.
#8 Culinary treats.
From one of the best bacon-egg-and-cheese-on-a-roll breakfasts you'll ever eat in your life (at Bunk Sandwiches) to epic meat dinners at Laurelhurst Market, a butcher shop and restaurant, to a proper night out at Le Pigeon to spicy wings and cool salads from hipster Thai Pok Pok to crazy bad-for-you breakfasts at Pine State Biscuits to those food carts mentioned previously that serve up every kind of food you can imagine, all over town, to incredibly fresh vegetables and locally (and sensibly) farmed meats to great Northwest fish and oysters and you name it, Portland is a town for people who really, really like to eat. Don't come expecting a ton of traditionally fine dining but do come hungry. Really, really hungry. Maybe also bring stretch pants.
#9 And save room for dessert.
One of the most famous foodstuffs in town for a few years running now has been a now-oft-copied bacon maple contraption at Voodoo Donuts, but that's just the start of the fun. Here you have everything from "Cupcake Wars" champ Kyra Bussanich making magic at Lake Oswego's Crave Bake Shop to James Beard Award winner Kim Boyce, making waves at her new Sandy Boulevard bakery, called — rather simply — Bakeshop. But there's nothing simple about the pastry; Boyce has years of experience in top kitchens in Los Angeles. From rhubarb hand pies to fig buckwheat scones, you have to try it all.
#10 A peddler's paradise.
Eventually, even the most intrepid eaters and drinkers will be crying "uncle." Now you know why this town's as into outdoor activity as it is into stuffing awesome things down its gullet. It's called survival. And not weighing 400 pounds. If you're having trouble getting motivated to get up and get going, join a group bike tour — anywhere from an easy spin around downtown or a day out in the Gorge or up in wine country — through Pedal Bike Tours (pedalbiketours.com). If you prefer an upper-body workout, the Portland River Company offers cool guided tours — and instruction, too — out on the Willamette River (portlandrivercompany.com).
And I'd like to add #11.
It's a fabulous place to call home.  If you'd like to see a few houses while you're visiting, please let me know!  Portland OR Real Estate is at bargain prices, and with today's interest rates, amazingly affordable. 

Thanks to George Hobica, Syndicated travel journalist and founder of Airfarewatchdog.com for this terrific article.  Be sure to subscribe to airfarewatchdog.com for best deals on your favorite city pairs – a surefire way to get the best price on airfare for your coming trips.  For a linkback to the original article on Huffington Post, click here.

Regarded as one of the leading American artists of the 20th century, Mark Rothko (1903-1970) began his life in art as Marcus Rothkowitz in Portland, Ore. Having emigrated from Russia as a 10-year-old with his mother and older sister in 1913 to join his father and brothers in Portland, Rothko attended Lincoln High School and took his first art classes at the Museum Art School before going off to Yale, New York City, and beyond. This exhibition celebrates a native son whose lyrical paintings created a legacy for the world.
There are forty-five paintings , borrowed from family, the National Gallery of Art and private collectors.    A retrospective survey of Mark Rothko's paintings has never been staged in Portland, although Rothko's first museum exhibition was hosted by the Museum in 1933-34.
photo courtesy of http://faramarzsoleimani.blogspot.com/2011/02/mark-rothko1903-1970.html