Sometimes there is no perfect solution to providing access to the outdoors for your little furry friend. Leaving them home alone all day while you're at work can lead to accidents. Doggy day care can be expensive if you need to use it every day. But some properties just don't have perfect access – a door that leads to a fenced yard, or a spot for a doggy door that is concealed from view in your everyday spaces.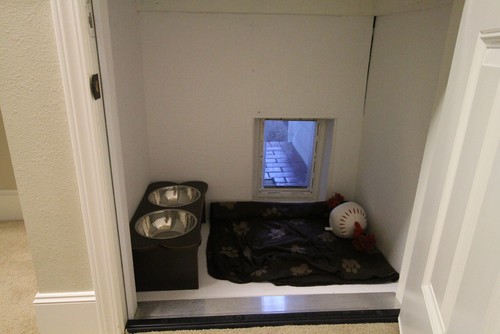 This homeowner turned an ordinary closet into a warm spot for their dog to be indoors, while giving it access to the outside as well. You can leave the door ajar when you're home, and close it when you're away. I love that this closes it off from view and everybody is happy.
photo courtesy of Houzz. Designed and built by Aloha Home Builders.
Portland Oregon Real Estate Information,
Portland Oregon Highlights.