According to CNN's 25 Best Places to Retire, Portland is number two!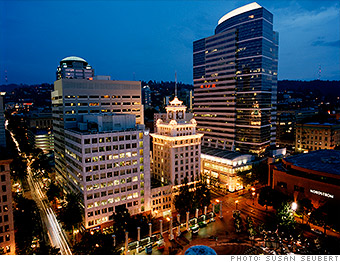 Whether you dream of retiring to a big city, small town, resort area or college town, these 25 cities offer reasonably priced homes, low crime and tax rates, quality health care, and more.
#1 Albuquerque
#2 Portland
Best if you're looking for: Big city
Median home price: $272,000
Top state income tax: 9.9%; no sales tax
Famous for its food and bike cultures, Portland is a thriving but manageable city that gives retirees easy access to just about anything.
To see a revolving door of art exhibits, performing arts, and festivals, look no further than downtown and the nearby Pearl District.
No need to leave the city for outdoor adventures; Portland has one of the largest urban forests in the country (wine country and beaches are just a short drive away). It's also home to several award-winning hospitals, including the Oregon Health & Sciences University, whose research center attracts experts and patients from around the country.
See complete data for Portland
I have helped many retirees find their dream home in the Pearl District, Lake Oswego, suburban Portland, and outlying small towns like Canby, Sherwood and Hillsboro. I've also helped a number of seniors sell their homes and find great accommodations in Senior Centers and Assisted Living. Please let me know if I can help you retire in Portland!