Statistics for the 97229 Zip Code through February 15, 2016
Properties for sale: 108

New Listings: 110

Sold Properties: 89

Pending: 97

Months of Inventory based on closed sales:112

Months of Inventory based on pending sales: 1.1

Absorption Rate (Closed Sales) %: 82.4

Absorption Rate (Pending Sales) %: 89.8

Average Active Listing Price: $818,000

Average Sold Price: $479,000

Average Price/Square Foot (Sold Listings): $211

Sold Price/List Price Diffential: 100%

Sold Price / Original List Price Diffential: 98%

Days on Market: 39

Medial Sale Price $475,000
New homes for sale are down 29% current -vs- same quarter 1 year ago and up 11.2% in the last month
Sold homes are up 36% current -vs- same quarter 1 year ago and down 25.7% in the last month
Pending sales are down .7% current -vs- same quarter 1 year ago, and up 4.8% in the last month
It's a great time to sell in 97229!
Current Portland Oregon Real Estate Information,

Highlights of Portland Oregon, House Ideas

Portland Real Estate, Portland Oregon Top Producer, Windermere Top Producer, Portland Realtor, Portland Homes for Sale
Windermere Top Producer Cary
Many believed that when the housing market crashed, so too would the desire of American's to own a home again. Many reports have shown that, especially among younger generations, the American Dream of homeownership is still very much alive. Julián Castro, Secretary for HUD, recently summed up what it means to own a home in a speech at the National Press Club.
"Homeownership is still the cornerstone of the American Dream — a fact you can see in the lives of everyday folks. It's a source of pride. It's a source of wealth, providing both a nest and a nest egg. And it strengthens communities and fuels growth in the overall economy."
Castro appropriately named his speech, "2015: A Year of Housing Opportunity", a theme that rang true throughout.
"Opportunity is not an abstract concept – it's a path to a more prosperous life, and housing often serves as its foundation. T.S. Elliot once said that "home is where one starts from." "A home is often a primary source of wealth in a family… Having a home is generational way to pass that wealth on. We want people responsible enough to own a home to have that opportunity."
Bottom Line
"Over the years-through decades of economic downturns and wars-the American people have always held on to this Dream, and always will."
As the economy continues to improve, more and more Americans will qualify for homeownership, allowing more families to obtain the American Dream.
Current Portland Oregon Real Estate Information,

Highlights of Portland Oregon, House Ideas

Portland Real Estate, Portland Oregon Top Producer, Windermere Top Producer, Portland Realtor, Portland Homes for Sale
Windermere Top Producer Cary Perkins
Portland is currently a very hot area for real estate. In fact, it is not unusual in several neighborhoods for there to be more than 5-10 or more offers for the same property, driving the price up 10% or more above asking price.
People have asked whether this is an indicator of another bubble waiting to explode all over the area's real estate market. The last time home prices ticked up like this was just before the market correction. So is this an inflated market or just the sign of a market continuing to find its new normal?
According to the Case Shiller Home Price Index released last month (February 25) showed that through the end of December, in the United States, home prices were up 11.3% overall which was the best year since 2005 according to the Chairman of the S&P Dow Jones Index Committee, David M. Blitzer. Some standout markets in 2013 included:
Several of those markets were hit very hard in the downturn and the numbers listed above reflect a rebound (such as Detroit, Las Vegas, Miami, Phoenix, and Tampa), but what about Atlanta, Los Angeles, Portland, San Diego, San Francisco and Seattle?
Several of these markets are driven by pent-up demand and the loosening of credit. However, it is important to take a closer look at these markets, and any other market that is seeing high demand, to determine where the demand is coming from and if that demand is sustainable.
For example, in looking at Portland, there are several factors at work:
Migration to Oregon from other states is very high. In fact, Portland has one of the highest migration totals in the country in 2013.
Foreign and domestic investors are investing in the Portland housing market and the surrounding areas due to the potential for higher rents in these areas.
When demand occurs for more than one reason, it is a sign that a market is healthy, not spiraling out of control.
We must also take into account that credit is loosening up from recent years, but it is nowhere near as loose as it was in the years leading up to the market correction. New guidelines have been set in motion to prevent the kind of collapse we have had in the past. Credit score requirements are on the way down for loans. In fact, as reported by the LA Times last week, lenders are reducing the required credit scores for FHA loans and are allowing some with credit scores of 600 to receive mortgage funding. Lenders are also raising the debt-to-income ratio limit.
I don't believe this is a bubble. This is a direct result of pent-up demand from buyers who have been waiting almost three years to buy. Buyers who were getting ready to buy a year ago chose to wait because of issues the country was having with the debt ceiling and there was a lack of confidence in the market. Consumers are feeling more confident now and they show that confidence in buying real estate. In some markets there just isn't enough inventory to go around. The increased consumer confidence along with the lack of new construction inventory has created a storm of demand.
According to CNN's 25 Best Places to Retire, Portland is number two!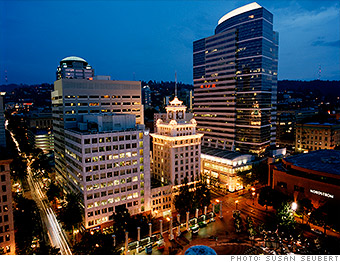 Whether you dream of retiring to a big city, small town, resort area or college town, these 25 cities offer reasonably priced homes, low crime and tax rates, quality health care, and more.
#1 Albuquerque
#2 Portland
Best if you're looking for: Big city
Median home price: $272,000
Top state income tax: 9.9%; no sales tax
Famous for its food and bike cultures, Portland is a thriving but manageable city that gives retirees easy access to just about anything.
To see a revolving door of art exhibits, performing arts, and festivals, look no further than downtown and the nearby Pearl District.
No need to leave the city for outdoor adventures; Portland has one of the largest urban forests in the country (wine country and beaches are just a short drive away). It's also home to several award-winning hospitals, including the Oregon Health & Sciences University, whose research center attracts experts and patients from around the country.
See complete data for Portland
I have helped many retirees find their dream home in the Pearl District, Lake Oswego, suburban Portland, and outlying small towns like Canby, Sherwood and Hillsboro. I've also helped a number of seniors sell their homes and find great accommodations in Senior Centers and Assisted Living. Please let me know if I can help you retire in Portland!
Everyone seems to be asking their professional Realtor's prediction is on where home values are headed.
 To answer this question I want to quote three separate reports that have been published in the last 60 days: the Home Price Expectations Survey (HPES), the Urban Land Institute Real Estate Consensus Forecast (ULI) and the Demand Institute's Report (DIR): The Shifting Nature of U.S. Housing Demand. Here are their projections: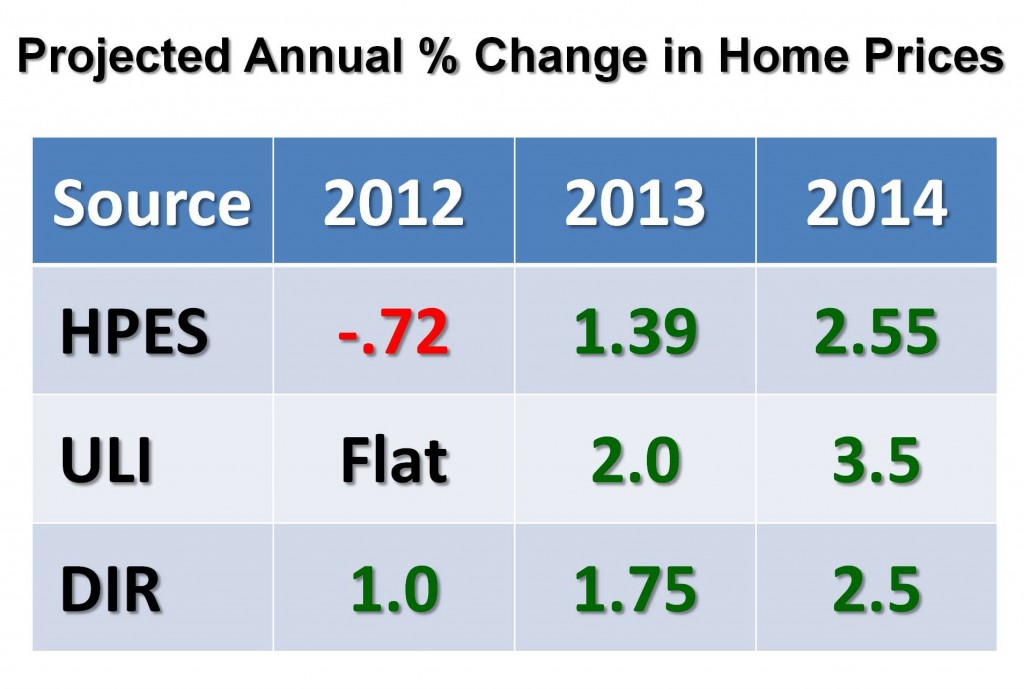 A slow but steady return is projected by all.  If you plan to stay in your house for 5 years, you can expect appreciation –  not like the good old days in the rush, but a good, modest growth at a pace that's a welcome relief after the last few years.
With thanks to the KCM Blog.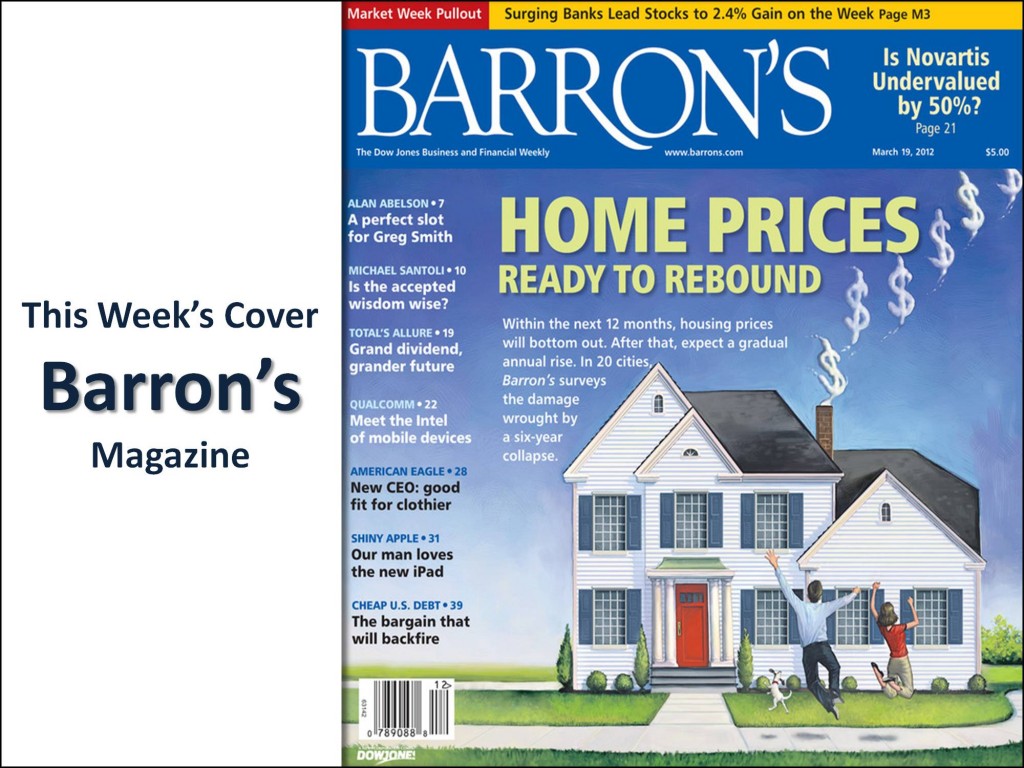 Maybe you think Realtors are being optimistic when we say that the market is coming back. We are, I believe, optimists by nature. This job isn't for the faint of heart, especially in the last few years when up to 40% of the Realtors left the business. But here is Barrons joining in our argument that we are on the mend.
Not only that, the article predicts 30% growth in the next 10 years. Payback. If you were waiting for the bottom, wait no longer. Let's go house shopping.