Social Links Widget
Click here to edit the Social Media Links settings. This text will not be visible on the front end.
Get started on those home repairs, knowing what type of return they'll have when selling your house.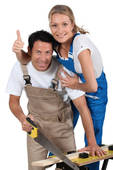 From a minor kitchen remodel & cabinet re-facing -vs- major kitchen with new cabinets, and from attics to basements, this report is a useful guide explaining what you can expect to recoup during your home sale.  If spiffing up your house will help you to enjoy it while you're living there AND you get a 91.5% return on your expense, why not call the contractor?
Also included is a link to the 2011-2012 Remodeling Cost vs. Value Report.  This has national numbers and also drilled-down data for Portland here.
As always, if you have specific questions on what you might do to improve your home for sale, I'd love to come over and take a look around.  And for fun do-it-yourself projects, visit my Pinterest page for my collection of fabulous projects.  Please check back frequently – I add new content weekly.
What better way to explore Portland than through pictures?  I've been collecting scenes from Portland, and have started to keep a file on a Pinterest page.  You can find it by clicking here.
Check back often, or subscribe to my Pinterest page.  You'll also find pages on mid-century love, do-it-yourself ideas, restaurants, and awesome looking spaces to dream about in your next home in Portland, Oregon.  Obviously, I'm also the person to help you find it.  I love Portland, and I'll show you nooks and crannies that will help you to love it too.