Design is underway for Block 17 in the Pearl.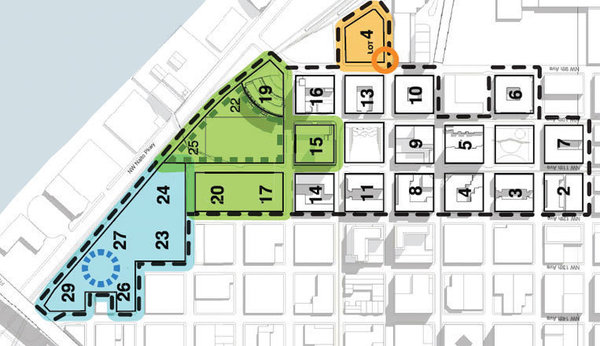 During Tuesday's Planning and Transportation meeting, developer Hoyt Street Properties and Boora Architects, sought design advice for Pearl District Block 17. Hoyt Street Properties purposes a residential tower and mid-rise structure for the site. Based on last night's design presentation, the tower skin is described as modern light-colored glass. The mid-rise skin was all white brick.
Unfortunately — Boora declined my request for renderings at this time.
With the project shaping up, so far we know the following:
16 floor tower, 175′ height

Separate 5 floor mid-rise structure

280 units total, including 60 in the mid-rise structure

219 below grade parking spaces

Ground floor walk-up units, and no retail

Service street is 12th avenue

Courtyard will separate two buildings

Top floor of tower will include common space and 1,000 sqft terrace

Lobby entrances are on South East corners of both buildings

Pettygrove Green Street will be extended on the North side
Feedback from residents and guests of the meeting was mixed. Most agreed the northern end of the Pearl District is currently in a "white" facade trend. They urged the developer and architect to avoid using white. Also, others pushed for a substantial design difference between the mid-rise and tower. Currently the mid-rise is modern, but residents suggested making it more traditional. Folks even commented on the staggered windows, saying, "they're a 2010 trend."
The committee seemed intrigued by the courtyard between the tower and mid-rise, but discouraged by the lack of integration the park has with the site on 11th avenue. The courtyard runs North to South, and has three entrances. Two of those entrances are staircases; which were criticized as uninviting, but Hoyt did ensure the staircases are wide.
Boora and Hoyt will return in July or August with an updated design.
Thanks to Joseph Krahn for the use of his blog post.
Portland Oregon Real Estate Information,
Portland Oregon Highlights.