Statistics for the 97229 Zip Code through February 15, 2016
Properties for sale: 108

New Listings: 110

Sold Properties: 89

Pending: 97

Months of Inventory based on closed sales:112

Months of Inventory based on pending sales: 1.1

Absorption Rate (Closed Sales) %: 82.4

Absorption Rate (Pending Sales) %: 89.8

Average Active Listing Price: $818,000

Average Sold Price: $479,000

Average Price/Square Foot (Sold Listings): $211

Sold Price/List Price Diffential: 100%

Sold Price / Original List Price Diffential: 98%

Days on Market: 39

Medial Sale Price $475,000
New homes for sale are down 29% current -vs- same quarter 1 year ago and up 11.2% in the last month
Sold homes are up 36% current -vs- same quarter 1 year ago and down 25.7% in the last month
Pending sales are down .7% current -vs- same quarter 1 year ago, and up 4.8% in the last month
It's a great time to sell in 97229!
Current Portland Oregon Real Estate Information,

Highlights of Portland Oregon, House Ideas

Portland Real Estate, Portland Oregon Top Producer, Windermere Top Producer, Portland Realtor, Portland Homes for Sale
Windermere Top Producer Cary
Another fabulous food adventure for Portlandia!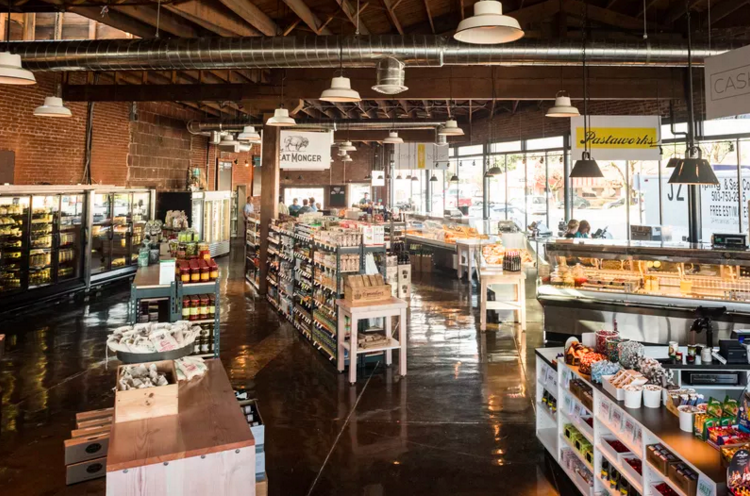 Located at 2340 NE Sandy, Providore Fine Foods opened early February, and in addition to letting you shop for groceries with a glass of wine or beer in-hand, it offers many onsite dining options. Here's what to eat at the new Providore Fine Foods: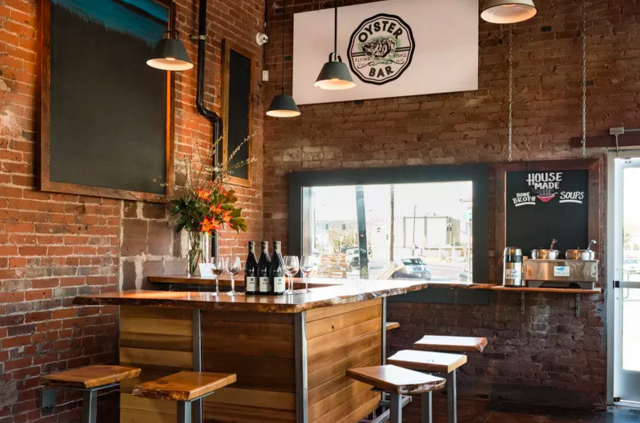 Flying Fish Oyster Bar
12 to 7:30 p.m. daily
For years, the sustainably minded Flying Fish Company has operated out of its mobile fish truck and Hawthorne fish shack, and at Providore Fine Foods, it sells local seafood and operates an 8-seat oyster bar, with standing room at a bar along the window, too. Made of Oregon cherry wood, the bar is tucked in the rear of the store and will offer:
three types of oysters served raw daily. Netarts bay oysters, delivered to Flying Fish the same day they are harvested by Nevor Shellfish, start at $2.

hot Flying Fish Company smoked salmon served on a cedar plank

two daily soups (one seafood, one meat)

bone broth

one red, one white, and one sparkling wine

bottled and canned microbrews and one cider
Image credit: Dina Avila/EPDX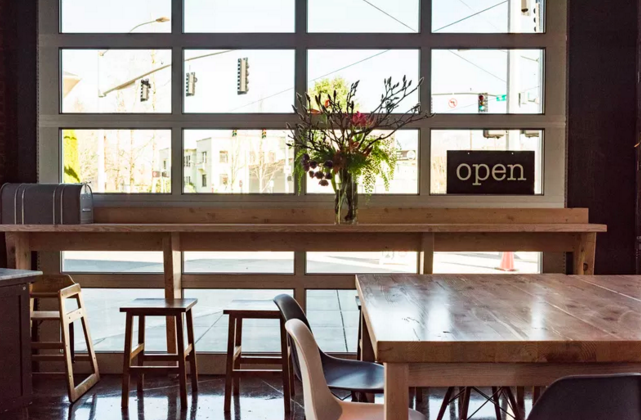 Arrosto
11 a.m. to 7 p.m. daily (tentative)
After discovering Italy's rotisserie chicken with their noses on a trip on the Italian Riviera, Providore Fine Foods and Pastaworks co-owners Kevin de Garmo and Kaie Wellman knew they needed to open a Mediterranean-style rotisserie chicken shack. Arrosto, scheduled to open at Providore Fine Foods by the end of the week, sells its chickens and sides through a window onto the street.
You can either take your order home or dig in in the Providore's seating area. Located at the front of the marketplace, the seating area seats around 20, either at two large communal tables or at a bar along the window. Come summer, the garage doors will roll up and the tables will spill out onto the patio.
Whole, half, and quarter rotisserie chickens. De Garmo says he prefers not to use a brine. "A brine is nice for breast meat, but it can make the rest of the bird soggy." Arrosto salt its chickens; stuffs them with rosemary; and brushes them with rosemary olive oil while cooking.

Every chicken comes with "crispy fat" roasted potatoes and a salad of wild baby arugula, escarole, and radicchio tossed with pecorino, croutons, and dressing.
Image credit: Dina Avila/EPDX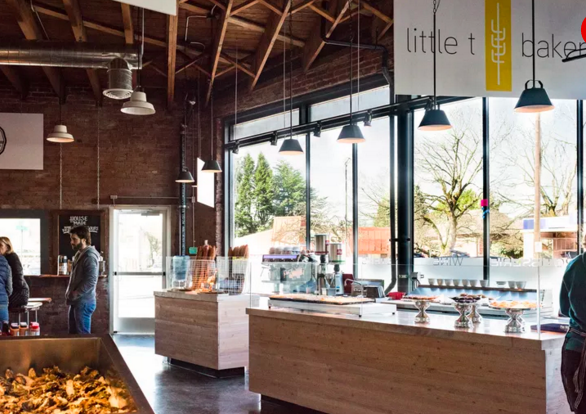 Little T Baker
9 a.m. to 7:30 p.m. daily
With two additional bakery locations in Portland, the local Little T Baker will focus on the following:
baguettes, salt slabs, and other breads

croissants, danishes, and other pastries—breakfast or otherwise

Chocolate chip cookies featuring Woodblock Chocolate and other cookies
Image credit: Dina Avila/EPDX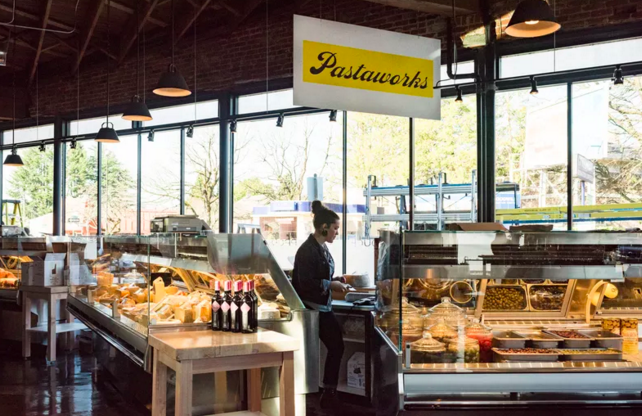 Pastaworks
9 a.m. to 7:30 p.m. daily
Pastaworks has always sold ready-to-eat items, but it's bringing lots of new ideas, including decadent chocolate and hazelnut Baci cookies and a line of foccaccias that now come with optional toppings, like prosciutto. It also hired executive chef Derek McCarthy (Firehouse, Pig & Pie), sous chef Jeff Ciuffetelli (Taylor Railworks, Clyde Common), and baker Abby Ward(Serrato, Tin Shed).
Image credit: Dina Avila/EPDX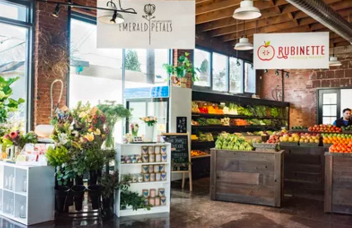 Rubinette Produce Market
9 a.m. to 7:30 p.m. daily
"We'll be the first to deliver local strawberries each year," says owner Josh Alsberg, who hopes to offer both farmers market-level produce and regular hours. To do it, he's enlisted farmers who are willing to grow special produce just for him. The fresh produce options are extensive, but here are some highlights:
lesser-known varieties of fruits and vegetables, from avocados to grapefruits

vegetables you simply aren't likely to find elsewhere, like burdock root, celeriac, and kale sprouts
Current Portland Oregon Real Estate Information,

Highlights of Portland Oregon, House Ideas

Portland Real Estate, Portland Oregon Top Producer, Windermere Top Producer, Portland Realtor, Portland Homes for Sale
Windermere Top Producer Cary Perkin
When it's time to sell your home, I start by preparing a seller's "net sheet," which outlines the sale price less your outstanding mortgage, pro-rated property taxes, etc. Often people are worried about how much tax they're going to have to pay on that big (hopefully) number on the bottom line that says "Net to Seller."
Most times the answer is ZERO taxes! When you sell your principal residence and make a profit, you get to exclude $250,000 of that profit from your taxable income. And that's just the exclusion for single owners. Married couples can exclude up to $500,000 (if both spouses each meet the ownership and use tests below). So, depending on how much of a profit you make on the sale, you and your partner could potentially have no capital gains tax bill at all.
Here's the fine print: in order to claim the maximum exclusion, you have to pass the IRS ownership and use tests. The test questions are:
Have you owned the house for two years?
Have you lived in the house as your principal residence for two out of the last five years, ending on the date of the sale?
There are a few exceptions to these rules–for example, if you had to move before owning the home for two years because of a job change or due to "unforeseen circumstance," such as a divorce or natural disaster. In these situations the IRS may allow you to prorate the exclusion.
And here's more fine print that is ususally helpful: the two years residency doesn't have to be consecutive–you just have to have lived in your home for a total of 24 months out of the five years prior to the sale.
How to Calculate your cost basis
To determine capital gains on the sale of your home, you subtract your 'cost basis' from the selling price. Your cost basis is not just the purchase price. It also includes some settlement fees, closing costs and commissions paid with the purchase and the sale. Add to this the cost of significant capital improvements (not repairs) you've made for renovations, additions, roofing, landscaping, and other upgrades. All of these improvements increase your cost basis, and will lower your potential tax liability. (Another good reason to keep records of all your home improvements)
You can also reduce your tax basis (and owe more taxes) for a few reasons – if you have a home office and have claimed depreciation over time, you now have to subtract those deductions from your cost basis. Or any tax credits for energy-related improvements have to be subtracted as well.
Estimate sale price and capital gains
Now estimate your sale price and subtract your cost basis. If you bought your house for $350,000, did $50,000 worth of improvements and had other closing fees and costs of $15,000, your cost basis is $415,000. Now let's say you expect to sell the house for $850,000. Your potential capital gain would be $435,000.
Factor in exclusion
In the above example, if you and your married partner met the ownership and use tests, you could exclude the entire gain from your taxable income. You wouldn't even have to report the sale on your tax return. However,if your capital gain turned out to be $525,000, you'd have to report the sale and pay long-term capital gains on $25,000.
As always, I recommend you speak with your accountant for the rules that apply to your personal tax situation. But if you want to talk about selling your home, please call.
Click here for the full article.
Current Portland Oregon Real Estate Information,

Highlights of Portland Oregon, House Ideas

Portland Real Estate, Portland Oregon Top Producer, Windermere Top Producer, Portland Realtor, Portland Homes for Sale
Windermere Top Producer Cary Perkin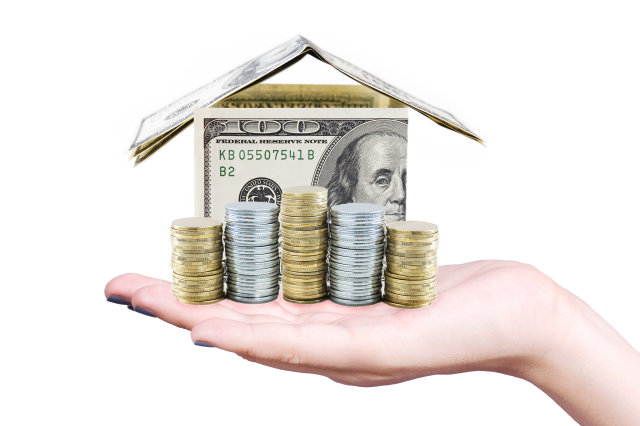 Don't assume that all houses (including yours) are good investments — because, frankly, many houses are not. Tell me if one of these thoughts has ever crossed your mind:
"I'll live in this house for a few years, then rent it out, and then maybe sell it when it rises in value."

"I'm going to remodel big-time before I sell; I bet I'll get top-dollar."

"Renting is just throwing money away."
Not so fast. Before you start throwing a massive chunk of your income toward an untested assumption, read on. The following could save you tens of thousands in unnecessary costs.
Myth No. 1: There's No Difference Between Your Personal Home and a Great Investment Home.
Myth No. 2: All Remodels Are Profitable.
Myth No. 3: Buying is Always Better Than Renting.
For the truth on these three myths, please read: How to Avoid a $20,000 Housing Error
Paula Pant owns five houses — yes, five. No, she's not rich, but she's a real estate investor who built a portfolio of rental properties that cover her entire cost-of-living. She's 30 years old, and she invites you to check out all the details about her real estate purchases — including the numbers — on her blog, Afford Anything.
For current Portland Real Estate advice, sales and purchases, please call or write.
Current Portland Oregon Real Estate Information,

Highlights of Portland Oregon, House Ideas

Portland Real Estate, Portland Oregon Top Producer, Windermere Top Producer, Portland Realtor, Portland Homes for Sale

I've observed that there are a lot fewer agents in the office this month, as a lot of clients and their real estate brokers are on vacation. Houses in certain price points are still flying off the market with multiple offers. Homes over $1,000,000 are slower than they were in the spring. I'm preparing for new listings that will hit after labor day, or early in 2015. What does this mean for you, buyers and sellers?
An easy explanation as to what's really happening is posted below. It was written by one of my favorite mentors, Denise Lones.
The spring and early summer brought a very robust real estate market in many areas and many price points. Multiple offers became the norm in many markets and agents found themselves busier than they had been in years. The market was moving, buyers were out looking and sellers who previously couldn't sell were finally getting the offers they needed to make a move possible. Pending home sales rose consistently and real estate was back in the media in a positive way.
However, agents in many areas may have noticed a slight slowdown in August prompting concern about whether the market was taking a turn downward. To answer this question I want to address some key things that we need to look at to answer that question.
HOUSING AFFORDABILITY INDEX
The housing affordability index is measured looking at median home prices, median family incomes and the mortgage interest rate. The higher the index, the more buying power a buyer has. As the index reduces, so does the buyer's buying power. The recent increase in home sale prices nationally and regionally has caused the Housing Affordability Index to decline from 196.5 in 2012 to 175.8 in 2013. It is going down even further in many areas. The West Coast has been particularly affected because of the high price gains in the past 18 months.
NEW CONSTRUCTION
Even though the market has picked up, we still have not seen enough new construction development to keep up with the demand. It is still difficult for builders to get financing and although it is better than it was, it is still not where it needs to be. That is why some areas are having such dramatic price gains; there just isn't enough inventory. In many areas we are seeing a shortage of new construction which means that prices will continue to be pushed upward if this shortage is not filled with new homes. Our new home product is built by two different types of builders: the production volume builder and the small builder. The small builder still struggles to get financing because they have not yet made up for their losses from the past economic challenges.
CONSUMER CONCERN
We have also seen recent dips in the stock market which always brings up questions and concerns for consumers, when consumers are concerned they stop buying. When consumers stop buying it creates a domino effect. As weather begins to change and kids return to school I am fully confident that the real estate market will continue to move along at a very healthy pace. Consumers will soon forget about the stock market declines and the change in the weather and they will once again settle in and put their attention back to buying or selling real estate.
WHAT THIS MEANS FOR BUYERS
Buyers who buy right now will benefit from the temporary slowdown in the market because they won't be competing with as many other buyers. Buyers who are serious need to take advantage of this temporary distraction in the market.
WHAT THIS MEANS FOR SELLERS
Sellers who need to sell right now need to get serious about their price. "Market" priced homes ARE selling and if sellers want to sell there are plenty of serious buyers out there right now taking advantage of the timing in the market.
The real estate industry is a moving market. It expands contracts, corrects and grows. Trust that any slowdown you may be experiencing is only a very temporary "breather" that is healthy for the market to take.
by Denise Lones on August 14th, 2014
Current Portland Oregon Real Estate Information,

Highlights of Portland Oregon, House Ideas

Portland Real Estate, Portland Oregon Top Producer, Windermere Top Producer, Portland Realtor, Portland Homes for Sale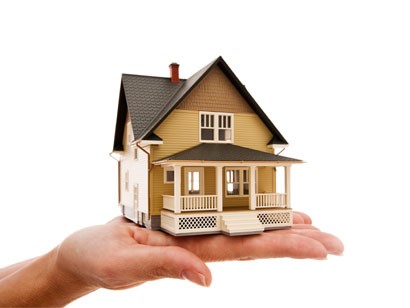 MICRO HOUSING – A micro-apartment, also known as an apodment or microflat, is a one-room, self-contained living space, usually purpose built, designed to accommodate a sitting space, sleeping space, bathroom and kitchenette within around 150–350 square feet.
"Micro housing" is fast becoming a reality in markets all across the country. For those who haven't heard much about it, micro housing is fully functional living space in a very small square footage blueprint (under 600 square feet).
Japan has been building micro housing units for years. It is now a very important part of urban markets everywhere. New York, Boston, Washington D.C., San Francisco, Chicago, Seattle and even Cleveland have micro housing product. Micro housing is also huge in Canadian markets such as Vancouver and Toronto where it is a much-needed segment of the market.
Micro housing is not only a solution for buyers who can't afford larger space. In fact, in some markets micro housing is the preferred high-demand product type for a certain segment of the population. Micro housing is generational and lifestyle-driven by Baby Boomers wanting to have a small space in urban communities and young professionals wanting to be close to work and to the urban hub. Additionally, consider that a large part of our population is single. Back in the 1950s, the United States' adult population was about 10% single. Today that number is closer to 40%. Single people require smaller living spaces than their coupled counterparts. With younger people choosing to get married later in life with higher rates of divorce coupled with Baby Boomers wanting spaces in urban areas along with young professionals – this all adds up to a much greater demand for micro housing.
Urban areas are beginning to recognize the need for micro housing in their urban centers. While in the past, a larger living area was required, in many cities across the country, planning and development departments are beginning to regulate micro housing as a separate entity. This is a clear indication that they are beginning to see the reality of its long-term place in the market and eyeing it as a solution for high-demand areas close to commerce as it also lessens the demand on mass transit the closer to work people live.
Mark my words – micro housing will become the buzz word in real estate in the next two years, just like "short sales" was when the market tumbled. Watch for many more micro housing developments to spring up in urban areas all around the country in years to come.
Portland Oregon Real Estate Information, House Ideas, Portland Oregon Highlights.
Caryperkins.com… A Windermere Top Producer….Fun With Real Estate!
This question comes up every year around this time. Things are slowing down a bit, you're thinking about family and celebrations, and yet you want to get your house sold.
Many sellers feel that the spring is the best time to place their home on the market as buyer demand increases at that time of year. However, the fall and winter have their own advantages. Here are five reasons to sell now.
Only Serious Buyers Are Out
At this time of year, only those purchasers who are serious about buying a home will be in the marketplace. You and your family will not be bothered and inconvenienced by mere 'lookers'. The lookers are at the mall or shopping on NW 23rd!
There Is Far Less Competition
Housing supply always shrinks dramatically at this time of year. The choices for buyers will be limited. Don't wait until the spring when all the other potential sellers in your market will put their homes up for sale.
The Process Will Be Quicker
One of the biggest challenges of the 2013 housing market has been the length of time it takes from contract to closing. Banks have been inundated with both purchase and refinancing loan requests. Both of these will slow in the winter cutting timelines and the frustration these delays cause both buyers and sellers.
There Will Never Be a Better Time to Move-Up
If you are moving up to a larger, more expensive home, consider doing it now. Prices are projected to appreciate by over 25% from now to 2018. If you are moving to a higher priced home, it will wind-up costing you more in raw dollars (both in down payment and mortgage payment) if you wait. You can also lock-in your 30 year housing expense with historically low interest rates right now. There is no guarantee rates will remain at these levels in years to come.
It's Time to Move On with Your Life
Look at the reason you decided to sell in the first place and decide whether it is worth waiting. Is money more important than having the freedom to go on with your life the way you planned? Will taking your house off the market now make this go any easier in the spring?
You already know the answers to the questions we just asked. You have the power to take back control of the situation by pricing your home to guarantee it sells before the end of the year .
Portland Oregon Real Estate Information, House Ideas, Portland Oregon Highlights.
Caryperkins.com… A Windermere Top Producer….Fun With Real Estate
I've always admired the history of the homes I've shown and sold. Sometimes when I visit a 60's or 70's home, I enjoy a great flashback to my younger days…. once I ran across the same wallpaper we had in our family room and just about melted from the happiness of seeing it again.
What's more exciting to me is to picture the people who lived there – from the time these fabulous old houses were new, and through today. Imagining the previous owners is a practice of mine – it makes seeing thousands of houses every year even more fun!
But if you want the REAL details on the history of your home, there's a great article in the Oregonian today telling you how to research the architect, the home's builder, original address and more.
Here is a re-print of the Oregonian article:
(and a link to it here)
This vintage photo is of a 1935 Birkemeier in northeast Portland. (Larry Keltner)
By Janet Eastman | jeastman@oregonian.com
on October 18, 2013
Do you wonder who else once lived in your home? Or who designed it? There are easy ways to uncover its history.
Val Ballestrem, the education manager for the Architectural Heritage Center, teaches a course on researching a house's history. He recommends these resources:
Portland Maps is a great starting point. Find the tax ID – lot and block information – and plumbing permits here, which may identify the builder, original owner and subsequent homeowners.
If the house is older than 1931, it likely had a different address when it was built. From 1931 to 1933, the City of Portland renamed some streets and renumbered house addresses. For example, SE 35th Place was originally East Marguerite Street.
Address conversion books are available at the Oregon Historical Society research library, the Portland City Archives and the Architectural Heritage Center. The website LovejoyPettygrove.com allows you to convert old addresses to new and new to old.
Once armed with names of previous homeowners or builders, tax lot information and the original address, go to The Oregonian Historical Archives (accessible through Multnomah County Library with your library card number and PIN). You might find an original real estate ad that describes the home and perhaps identifies the builder or architect.
If you know the builder or architect, additional research can uncover other structures they designed or built. Perhaps you'll even find a "twin" to your home, says Ballestrem.
Also, check out Neighborhood Association blogs such as Doug Decker's Alameda History blog, which has sections on designers Albert Hugh Irwin, Arthur J. Matot, Elwood Wiles, Frank Read, Harry Phillips, Kenneth L. Birkemeier and William B. Donahue.
Restore Oregon (formerly the Historic Preservation League of Oregon) and volunteers conducting neighborhood walking tours have additional information.
— Janet Eastman
I've just come across another VERY helpful article on Houzz.com. Please follow this link for some very helpful information on this same topic.
Portland Oregon Real Estate Information, House Ideas, Portland Oregon Highlights.
Caryperkins.com… A Windermere Top Producer….Fun With Real Estate!